These Captain Crunch™ marshmallow cereal treats combine the crunch of Cap'n Crunch™ cereal with the sweet, gooey goodness of marshmallows to create an easy and satisfying dessert. For a twist of spice, try our Cinnamon Toast Crunch™ Marshmallow Treats, or add a burst of fruity fun with our vibrant Easy Fruity Pebbles™ Marshmallow Treats.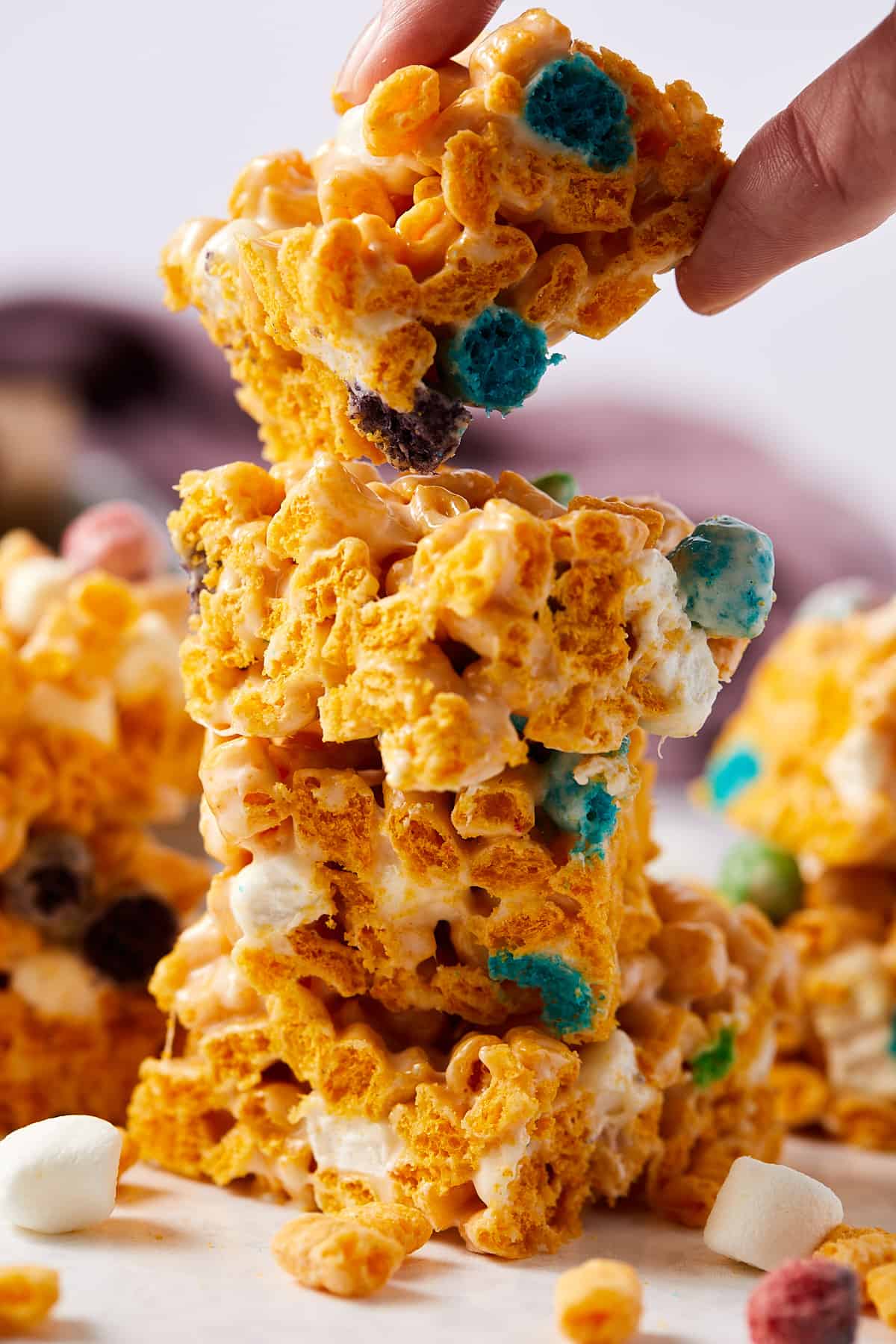 These treats are not just super yummy but also really easy to make. They're perfect for a fun family activity; everyone will love them. Whether you need a quick dessert for the kids, something special for your party, or a sweet little something, these treats are a sure hit. Trust me, everyone's going to ask for seconds!"
Why You'll Love This Recipe
Crunchy and Sweet!: Captain Crunch's™ classic, nostalgic crunch meets the oh-so-gooey marshmallows for a snack that's just so good!
So Easy, It's Almost Magic: These treats are a breeze to whip up. A few simple ingredients, no oven time, and bam! You've got yourself a delicious treat in no time. Perfect for those busy days when you still want to enjoy something homemade.
A Hit with Everyone: Whether you're five or fifty-five, these treats are sure to bring a smile. They're colorful, fun, and just the right mix of crunchy and soft. Ideal for family movie nights, picnics, or just a little something to brighten your day.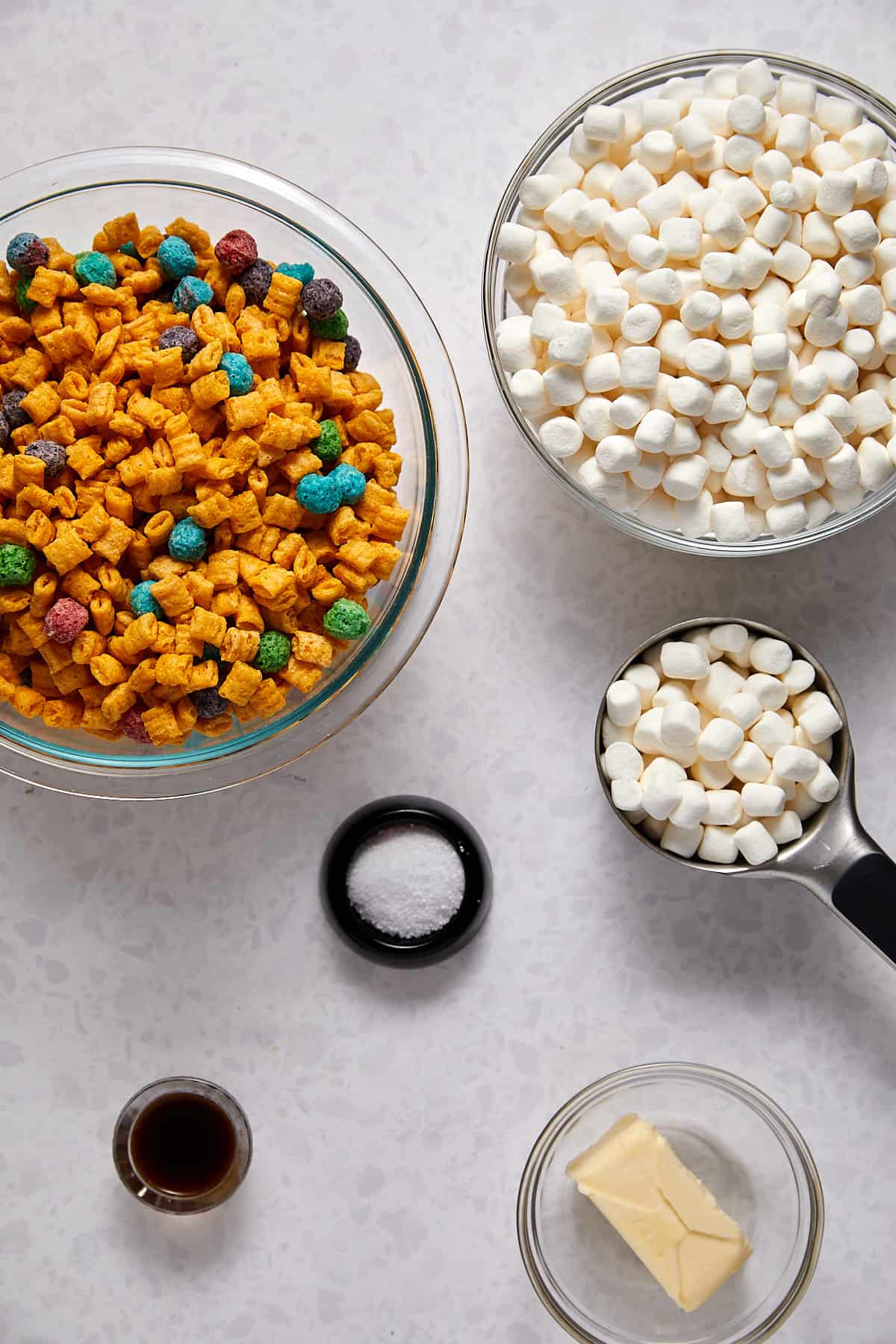 5 Ingredients in These Cap'n Crunch™ Marshmallow Treats!
Unsalted Butter – The Creamy Start: We begin with 4 tablespoons of unsalted butter. This isn't just any butter; the creamy foundation sets the stage for our marshmallow treats. It gives that rich, melt-in-your-mouth texture that we all love and ensures everything blends seamlessly. And we use unsalted because we want to control the salt.
Marshmallows – Sticky Sweetness: We're not holding back on the marshmallows! With one 10-ounce bag plus an extra cup of mini marshmallows, we ensure these treats are packed with gooey goodness. This generous amount creates the perfect marshmallow-to-cereal ratio, keeping our treats sticky, sweet, and oh-so-satisfying. You also use a 10 oz bag of large marshmallows.
Vanilla Extract – A Flavor Boost: A teaspoon of vanilla extract takes our treats from tasty to absolutely tantalizing, adding a subtle depth of flavor. This hint of vanilla complements the other ingredients beautifully, enhancing the overall taste.
Salt – The Flavor Enhancer: Here's our secret weapon – a half teaspoon of diamond crystal kosher salt. Salt in a sweet treat? Absolutely! The magic ingredient heightens the sweetness, balances the flavors, and makes those fruity notes pop.
Cap'n Crunch™ Cereal – The Star Ingredient: The cereal's classic, crunchy goodness transforms these treats into something special. If you are in the mood for a breakfast treat, check out this Captain Crunch French Toast.
How to make – Step by Step instructions
1. Grease an 8×8 or 9×9-inch baking pan with butter or line it with parchment paper to prevent the treats from sticking. I take a sheet of parchment, cut the corners, place the paper in the pan, and spray it with oil. And I use these black clips to keep the sides down. These come in handy for other baking projects as well.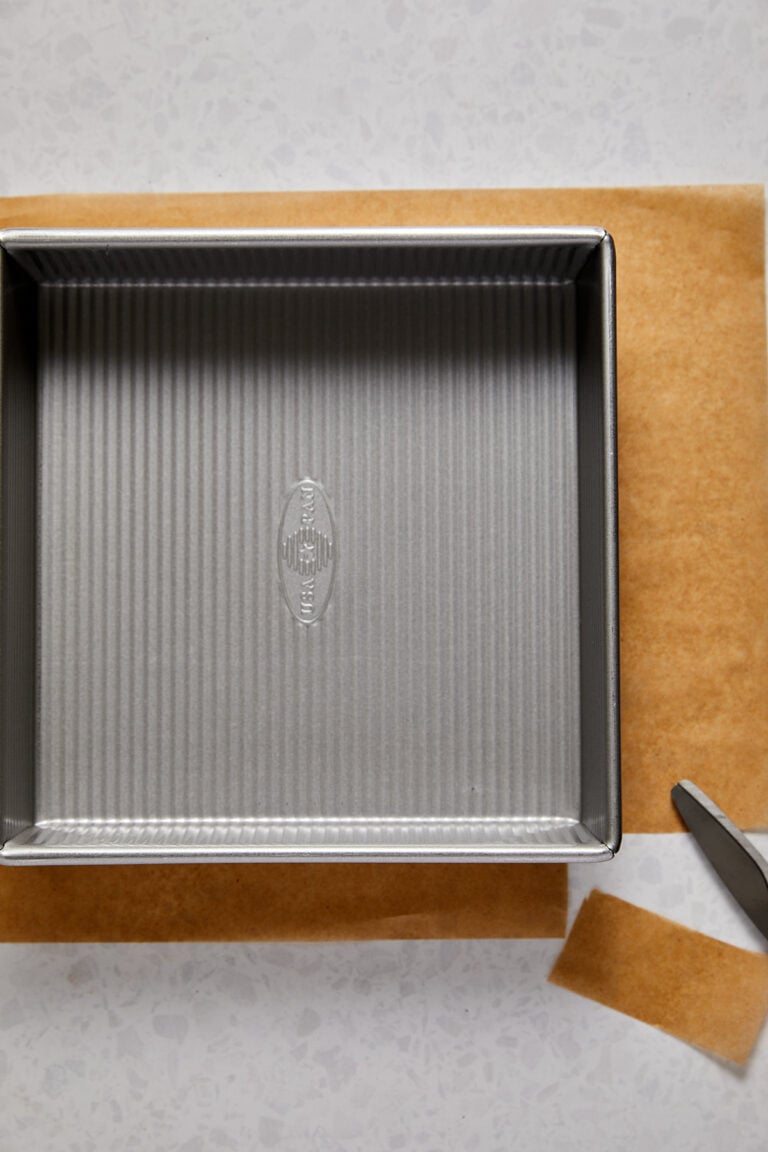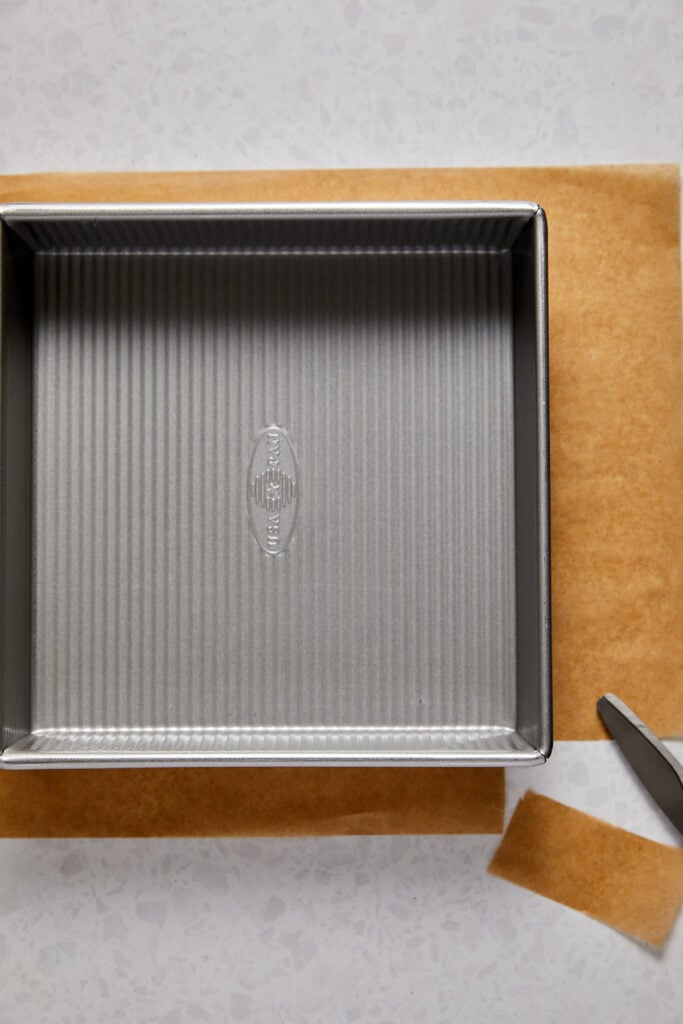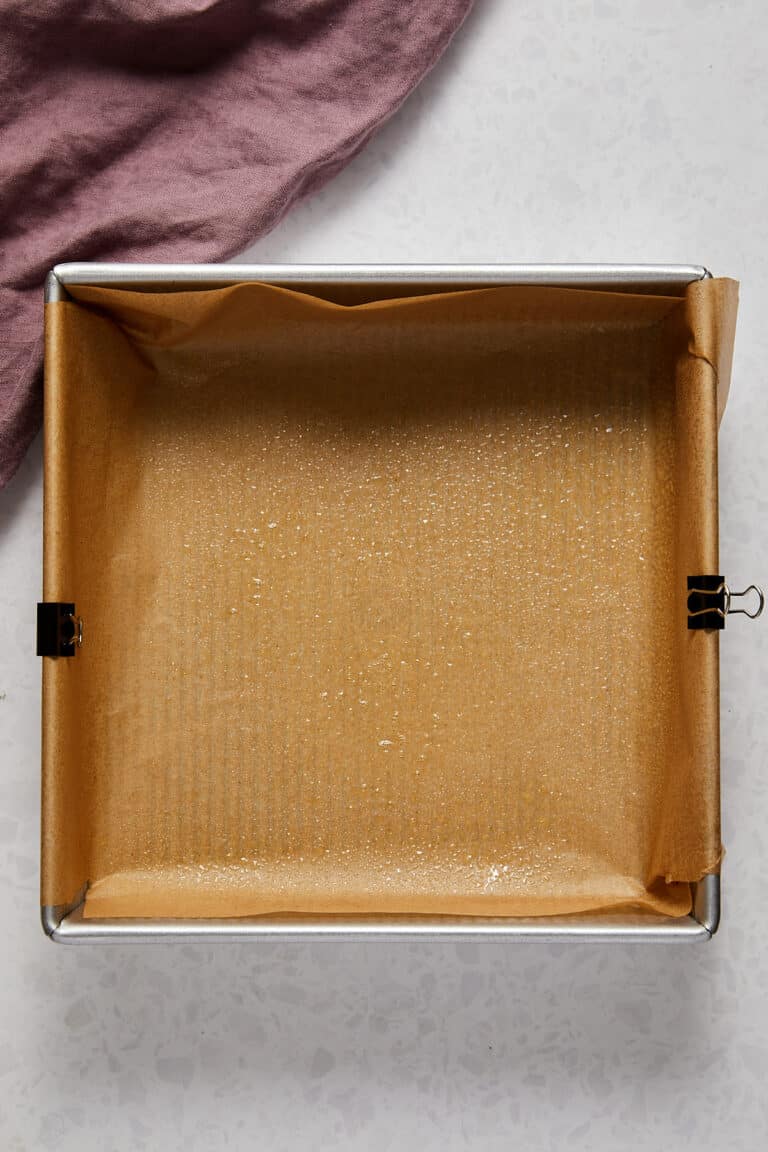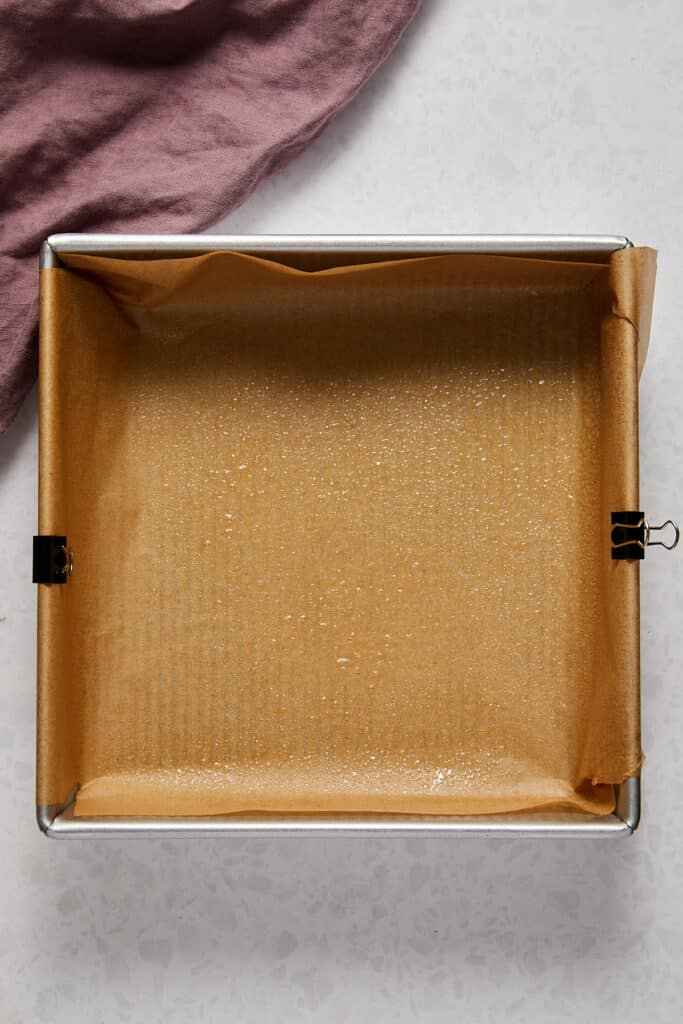 2. Start by melting the butter in a large saucepan over low heat. I use my 5.5-quart Dutch oven. Any similar size works great!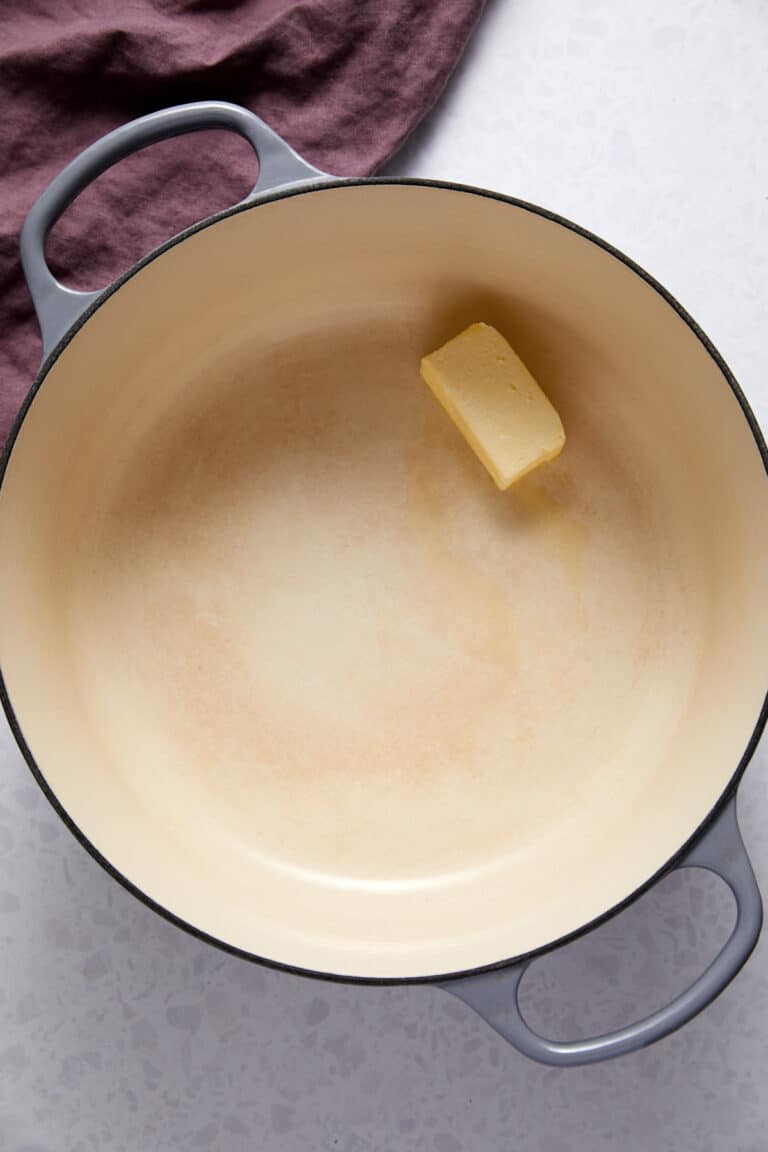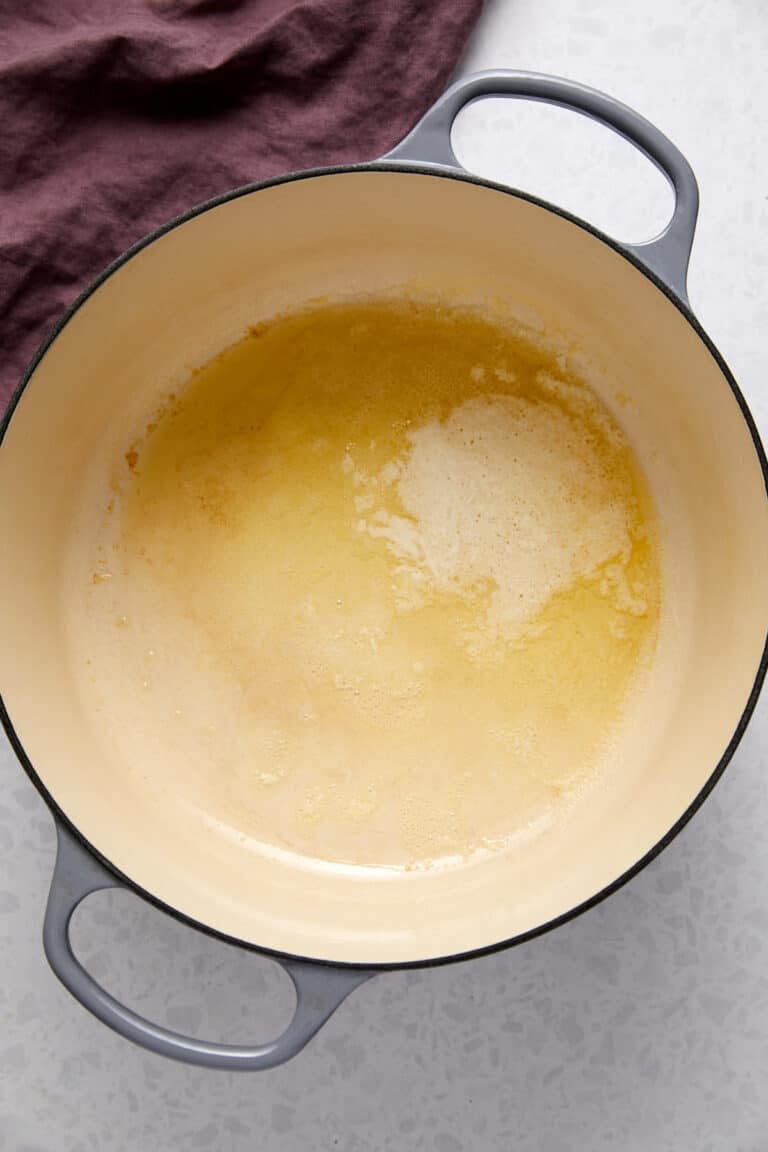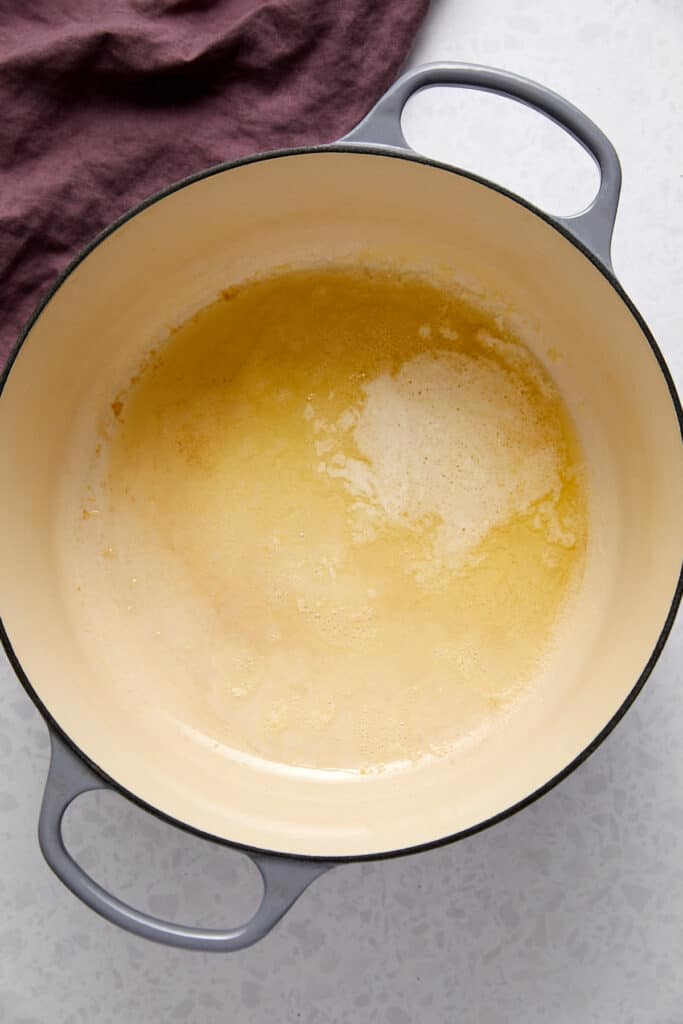 3. Once the butter has melted, add the bag of mini marshmallows to the saucepan. Stir constantly until the marshmallows have completely melted and combined with the butter. Remove the saucepan from heat, stir in vanilla and salt.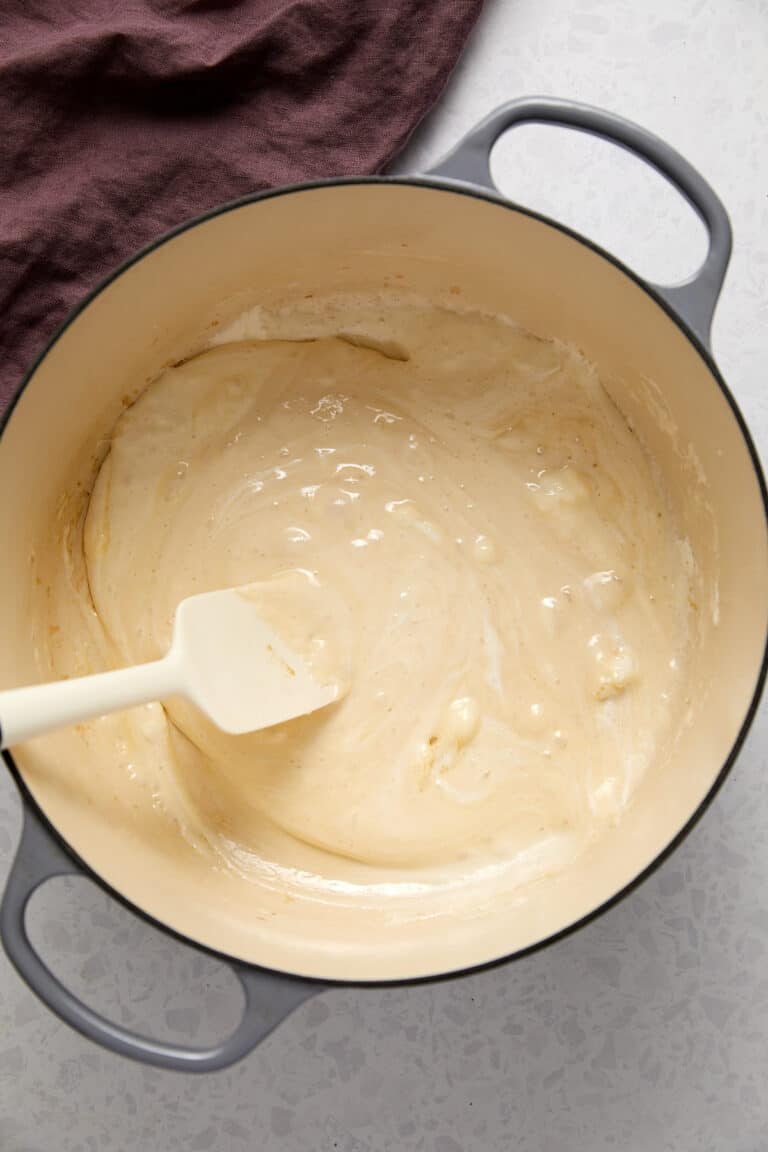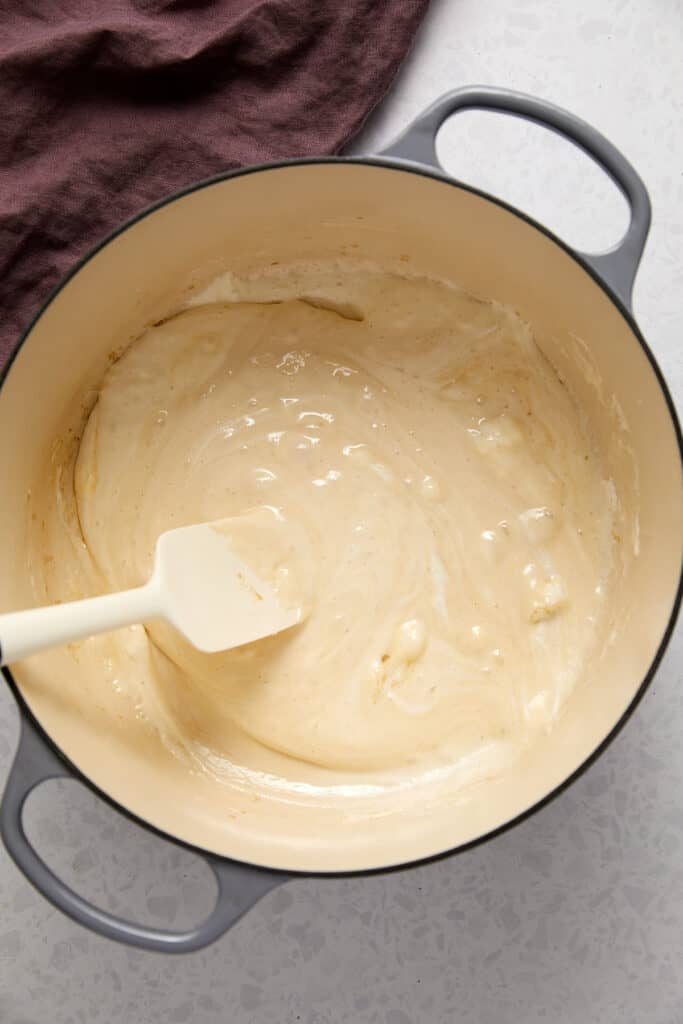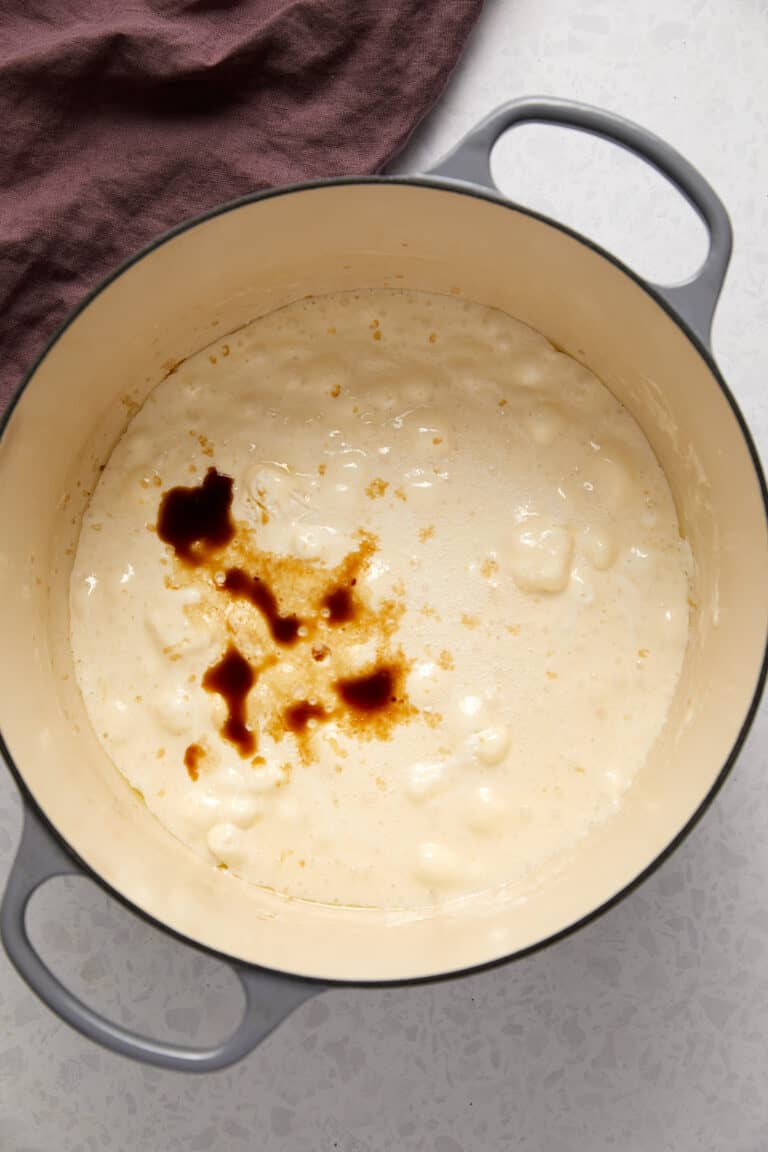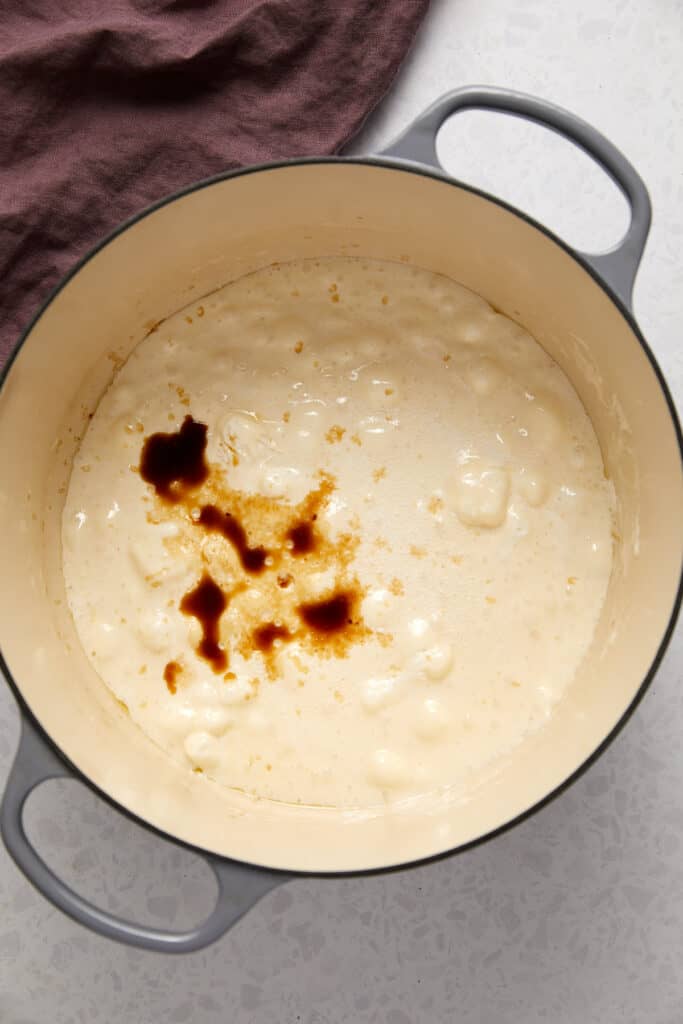 3. Add the Cap'n Crunch™ cereal to the marshmallow mixture. Stir well to ensure that all the cereal is coated with marshmallow goodness.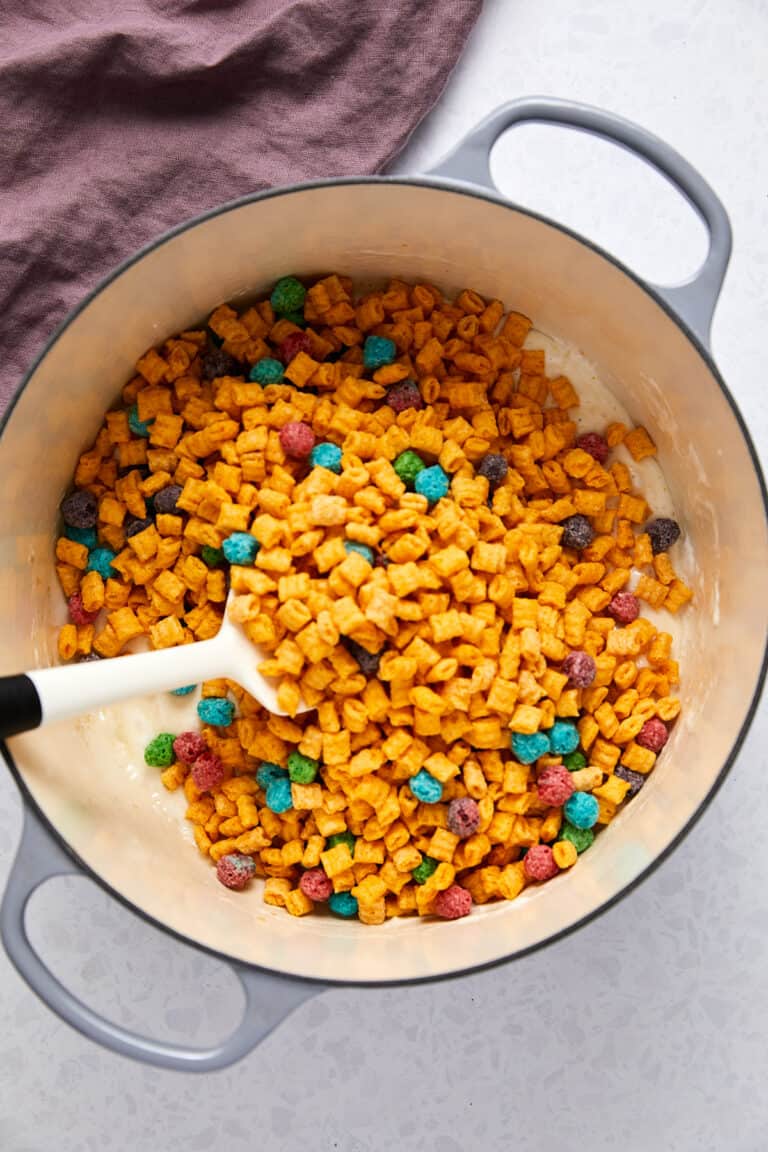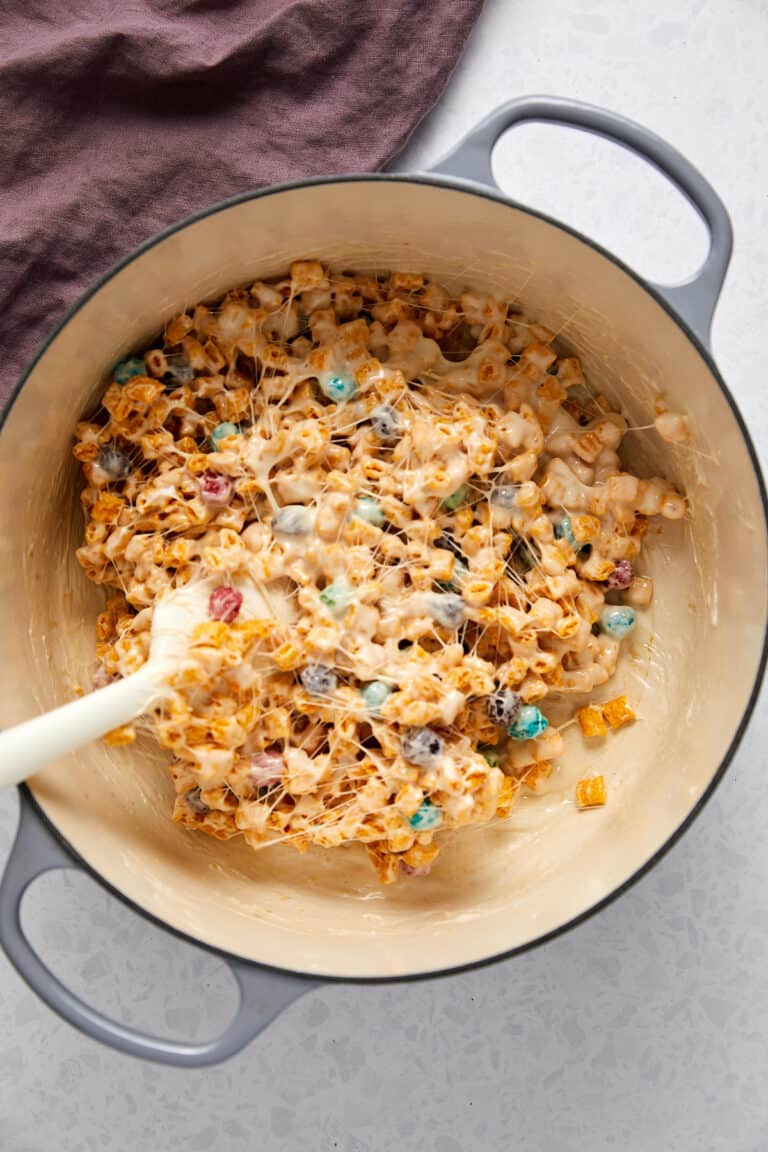 4. Pour in one cup of marshmallows and fold them gently into the mix. Transfer the mixture to the dish and gently press it down using a spatula or your hands. You may want to spray your hands and spatula with cooking spray so they don't stick!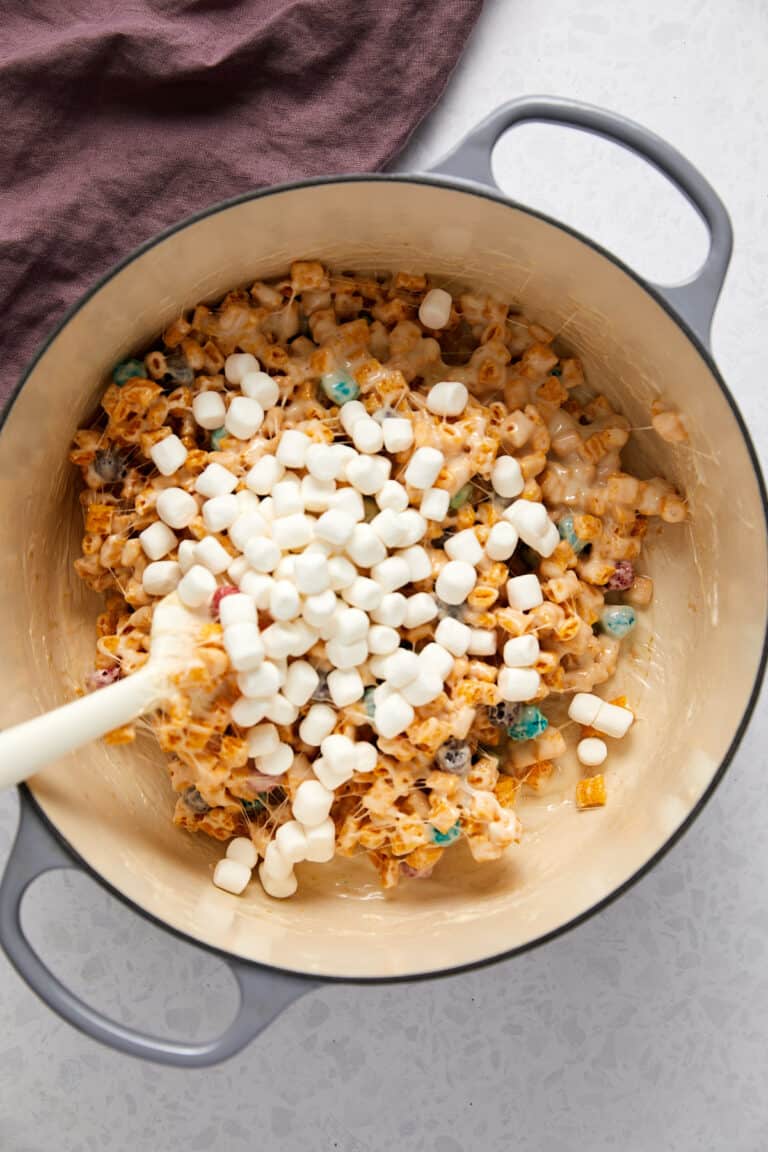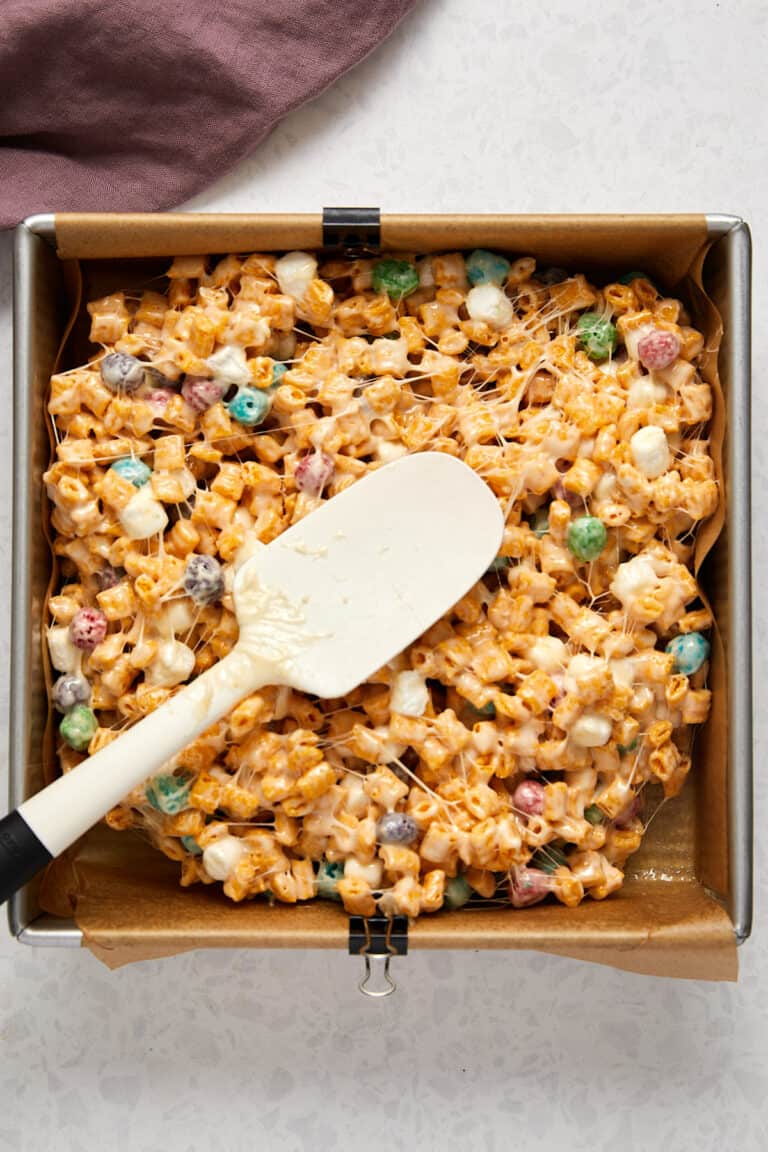 5. Allow the treats to cool and set for about 1 hour. Once the treats are completely cooled and set, cut them into squares or your desired shape. Store them in an airtight container for up to a week.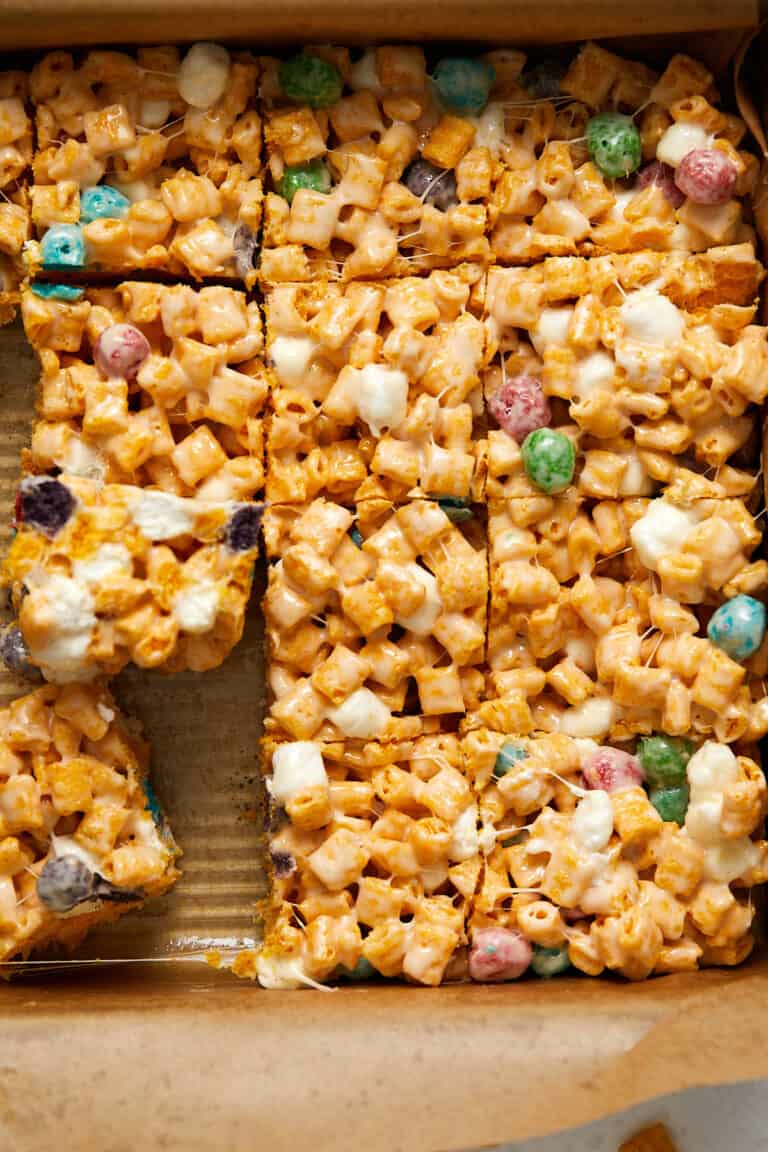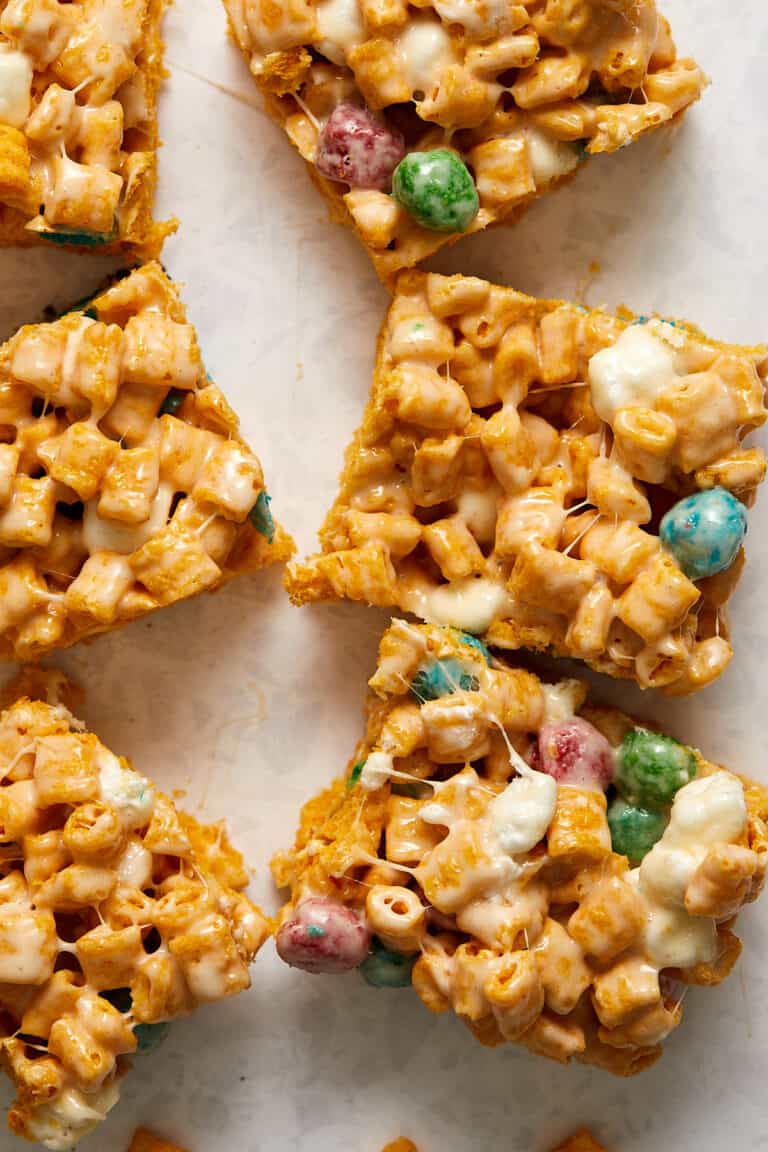 Tips and Tricks for the Best Cap'n Crunch™ Marshmallow Treats
Low and Slow with the Butter and Marshmallows: Melt your butter and marshmallows over low heat. This helps prevent burning and ensures a smooth, even melt. Patience here is key to achieving that perfect gooey texture.
Fresh Marshmallows for Optimal Gooeyness: Always use fresh marshmallows for the best results. They melt more evenly and give a smoother, stickier texture to your treats.
Non-Stick is Your Friend: Use a non-stick pot for melting and a non-stick spray for your spatula and the pan you're pressing the mixture into. This will make your life much easier and keep the treats from sticking to everything.
Don't Over-Press: When you're pressing the mixture into the pan, do it gently. Over-pressing can make the treats hard and dense, while a lighter touch keeps them airy and chewy.
Room Temperature Setting: Let your treats set at room temperature instead of in the refrigerator. Cooling them too quickly in the fridge can make them hard. Patience will reward you with the perfect texture.
You can omit the extra marshmallows that get stirred in at the end, but I highly recommend them!
Recipe Variations
Chocolate Lover's Delight:

Add 1 cup of semi-sweet chocolate chips to the marshmallow mixture after it's melted.
Top with chocolate drizzle once the treats have set.

Peanut Butter Twist:

Mix in ½ cup of creamy peanut butter into the melted marshmallow mixture.
Sprinkle crushed peanuts on top for added crunch.
Use Peanut Butter Cap'n Crunch for an extra peanut butter punch.

Mix and Match Ingredients:

Add-Ins: Feel free to add nuts, dairy-free or vegan chocolate chips, dried fruits, or coconut flakes for added texture and flavor.
Toppings: Drizzle with easy homemade salted caramel or sprinkle with sea salt or crushed nuts for extra flair.
Cereal Variations: Experiment with different types of gluten-free, vegan, or dairy-free cereals for a unique twist.
Recipe Substitutions
For 4 tablespoons unsalted butter:

Use an equal amount (4 tablespoons) of margarine or plant-based butter for a dairy-free or vegan option.

For 10-ounce bag mini marshmallows (plus 1 cup mini marshmallows, divided):

Vegan marshmallows can be used for a vegan alternative.

For 1/2 teaspoon (2g) Diamond Crystal kosher salt:

If using table salt, use half the amount by volume, as table salt is denser. For the same weight (2g), it would be equivalent.

For 6 cups Cap'n Crunch™ Cereal:

Other flavored cereals like Cocoa Pebbles or Rice Krispies can be used for a different taste profile.
For those who love berries, try it with Cap'n Crunch's™ Oops All Berries Crunch.
Storage Tips for Captain Crunch™ Treats
Room Temperature Storage:

Store the treats in an airtight container at room temperature for up to three days.

Avoid Refrigeration:

Refrigerating these treats can cause them to become hard and lose their ideal texture.
If you must refrigerate (due to a warm climate or added perishable ingredients), let them come to room temperature before serving for the best texture.

Layering with Parchment Paper:

If stacking treats in a container, place sheets of parchment or wax paper between layers to prevent them from sticking together.

Preventing Drying Out:

Ensure the container is tightly sealed to keep the treats from drying out.
If you notice they are starting to dry, you can place a slice of bread in the container, which can help add moisture back into the treats.

Freezing for Longer Storage:

You can freeze these treats for up to 6 weeks.
Wrap them individually in plastic wrap and then place them in a zip-lock freezer bag or an airtight container.
Place the cut squares in a zip-lock freezer bag, separating layers with parchment paper.
Thaw at room temperature for a few hours before eating.

Cutting Before Storing:

It's often easier to cut the treats into squares before storing, as they can harden slightly and become more difficult to cut cleanly over time.

Avoid Moist Environments:

Store them in a cool, dry place away from moisture, as humidity can make them soggy.
How to serve Cap'n Crunch Marshmallow Treats
Classic Squares:

Cut the treats into squares or rectangles for a traditional and easy-to-handle serving. This is great for grab-and-go convenience at parties or as snacks.

Fun Shapes:

Use cookie cutters to cut the treats into different shapes like stars, hearts, or circles. This can be particularly appealing for children or themed parties.

With Ice Cream:

Serve a square treat with a scoop of this Fruity Pebbles or vanilla ice cream on the side.
Frequently Asked Question's
What makes Captain Crunch™ Marshmallow Treats different from regular rice cereal treats?
The main difference lies in the cereal used. Captain Crunch™ offers a unique flavor and texture, providing a crunchier bite and a slightly different sweetness compared to the more neutral taste of rice cereal

Can I use different types of Captain Crunch cereal for this recipe?
Absolutely! Experiment with various types of Captain Crunch™ cereal, such as Peanut Butter Crunch or Berries Crunch, to add different flavors to your treats.
Can I use regular-sized marshmallows instead of mini marshmallows?
Yes, you can use regular marshmallows. Just use a 10-12 ounce bag. Skip the 1 cup of mini marshmallows.
Can I make these treats in advance for an event?
Yes, you can make them a day or two in advance. Just make sure to store them properly in an airtight container to maintain their freshness.
How do I prevent the mixture from sticking to my hands or spatula when pressing it into the pan?
Lightly greasing your hands and spatula with butter or cooking spray can help prevent sticking.
Is Captain Crunch gluten free?
Captain Crunch™ isn't gluten-free because it uses oats that are not certified gluten-free. Oats can be easily contaminated with gluten.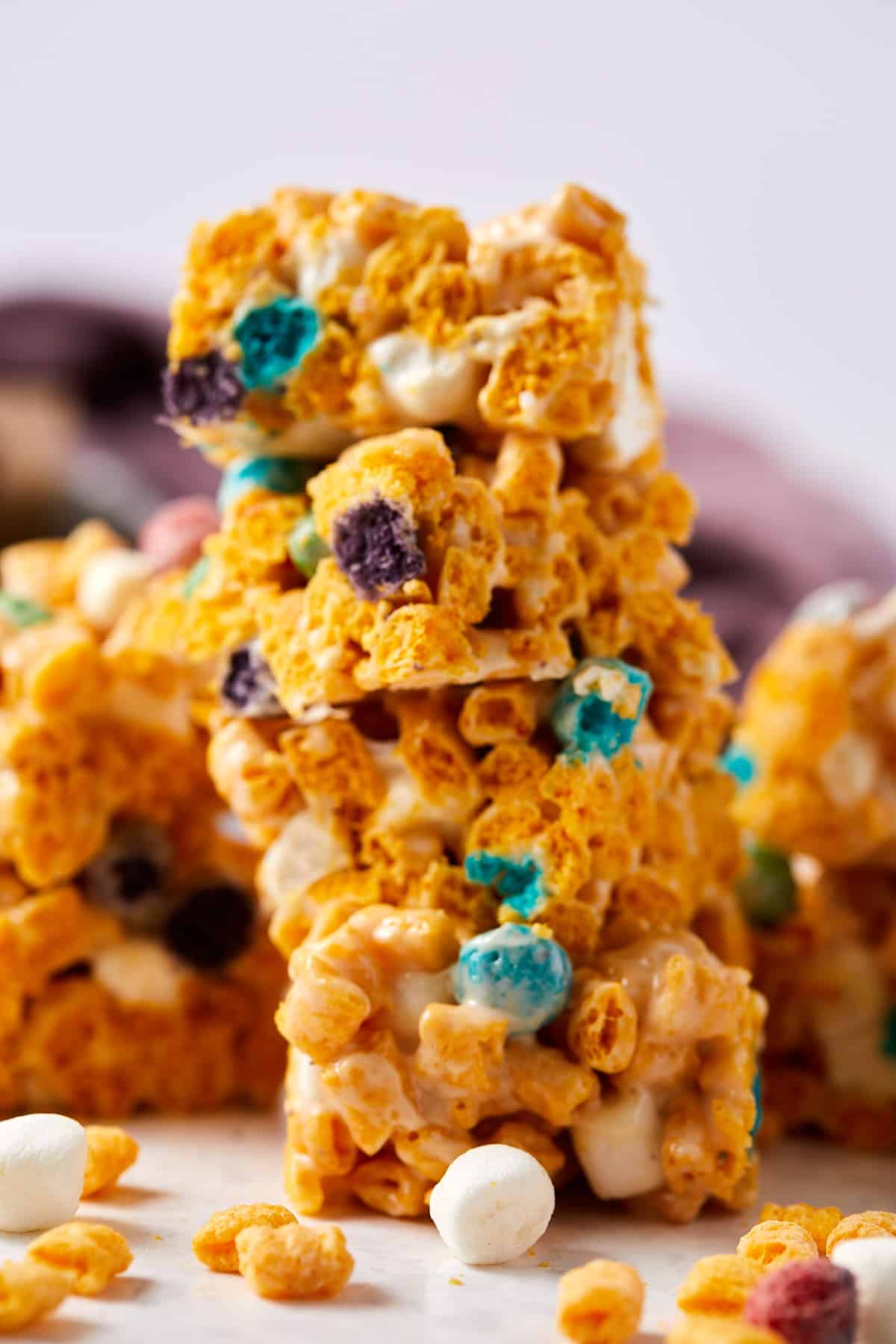 If you try these Captain Crunch™ Marshmallow Treats, let me know! Leave a comment, and if your family loves it as much as mine, give it a five-star ⭐️ rating! Subscribe to our mailing list to receive more delicious recipes.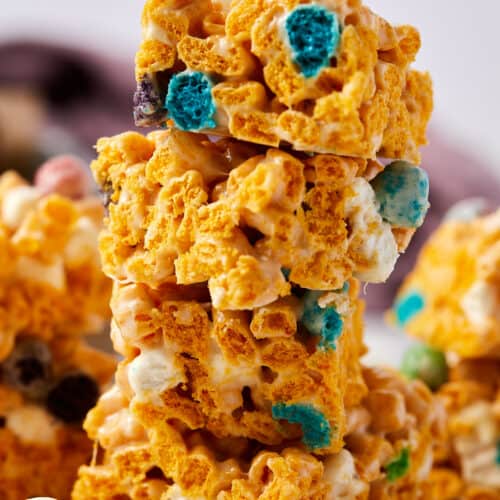 Captain Crunch™ Marshmallow Cereal Treats
These Captain Crunch™ marshmallow cereal treats combine the crunch of Cap'n Crunch™ cereal with the sweet, gooey goodness of marshmallows to create an easy and satisfying dessert.
Ingredients
4

tablespoons

unsalted butter

10

ounce

bag mini marshmallows

plus 1 cup mini marshmallows, divided

1

teaspoon

vanilla extract

1/2

teaspoon

(2g) Diamond Crystal kosher salt; for table salt, use about half as much by volume or the same weight

6

cups

Cap'n Crunch™ cereal
Instructions
Line a 8×8 or 9×9 with parchment paper. Lightly grease the parchment. I always use a very light mist of nonstick spray. Set aside.

Melt the butter over low heat in a large pot or Dutch oven. Once melted, add the 10-ounce bag of marshmallows. Stir the mixture until the marshmallows are just melted. Stir in the salt and vanilla to combine.

Remove the pan from the heat, add the Cap'n Crunch cereal, and mix until it is completely and evenly coated with the marshmallow mixture. Stir in additional one cup of marshmallows.

Turn the mixture out into the prepared pan and, using a wooden spoon or spatula that has been coated in non-stick cooking spray, press the mixture into a packed, even layer. Do not pack it down with force. Lightly press down until it is secure in the pan.

Allow treats to set for at least 1 hour at room temperature and up to 1 day. Cover tightly if leaving out for more than a few hours.

Lift the treats as a whole out of the pan using the edges of the parchment paper. Cut into squares.

Cover and store leftover treats at room temperature for up to 3 days. To store, place in an airtight container, with sheets of parchment or wax paper between layers.
Notes
Large Batch
8 tablespoons (1 stick) unsalted butter
2 bags (10 ounces each) mini or large marshmallows
2 cups mini marshmallows (for extra gooeyness)
2 teaspoons vanilla extract
1 teaspoon diamond crystal kosher salt
12 cups Cap'n Crunch™ cereal
Follow the instructions above, but spread the cereal treat mixture into a greased 9×13-inch pan.
Marshmallows: You will need 2 (10-ounce) bags of miniature marshmallows for this recipe. You will only need a cup of the 2nd bag.
Omitting Extra Marshmallows: You can omit the extra marshmallows that get stirred in at the end if you wish. Don't worry about altering the recipe – it'll still be great.
Storing + Shelf Life: These are best eaten the same day you make them. But if you've got leftovers, keep them in an airtight container at room temperature, and they should be good for about 3 days. Wrapping them individually in plastic wrap before storing them can help keep them fresh.
Freezing: Wrap each in plastic wrap, put them in a freezer bag, and keep them for a few months. Or layer cut pieces in layers separated with parchment paper. When you're ready to eat them, let them thaw at room temperature.
Nutrition
Calories:
188
kcal
Carbohydrates:
38
g
Protein:
3
g
Fat:
4
g
Saturated Fat:
1
g
Polyunsaturated Fat:
1
g
Monounsaturated Fat:
1
g
Trans Fat:
0.02
g
Sodium:
223
mg
Potassium:
46
mg
Fiber:
0.5
g
Sugar:
21
g
Vitamin A:
500
IU
Vitamin C:
4
mg
Calcium:
7
mg
Iron:
1
mg
Did you make this Recipe?
Leave a comment & recipe rating below. Tag @thesassandsalt on instagram so we can admire your masterpiece!