These moist and fluffy cinnamon banana muffins have a sweet banana base and a swirl of cinnamon goodness, are kid-friendly and are perfect for a quick on-the-go breakfast for those busy mornings. Inspired by the irresistible flavors of banana Nutella muffins, and the comforting appeal of cinnamon crunch banana bread, these muffins are a treat you won't want to miss. Whip up a batch in no time and enjoy the comforting flavors of banana and cinnamon. Simple, tasty, and ready in a flash!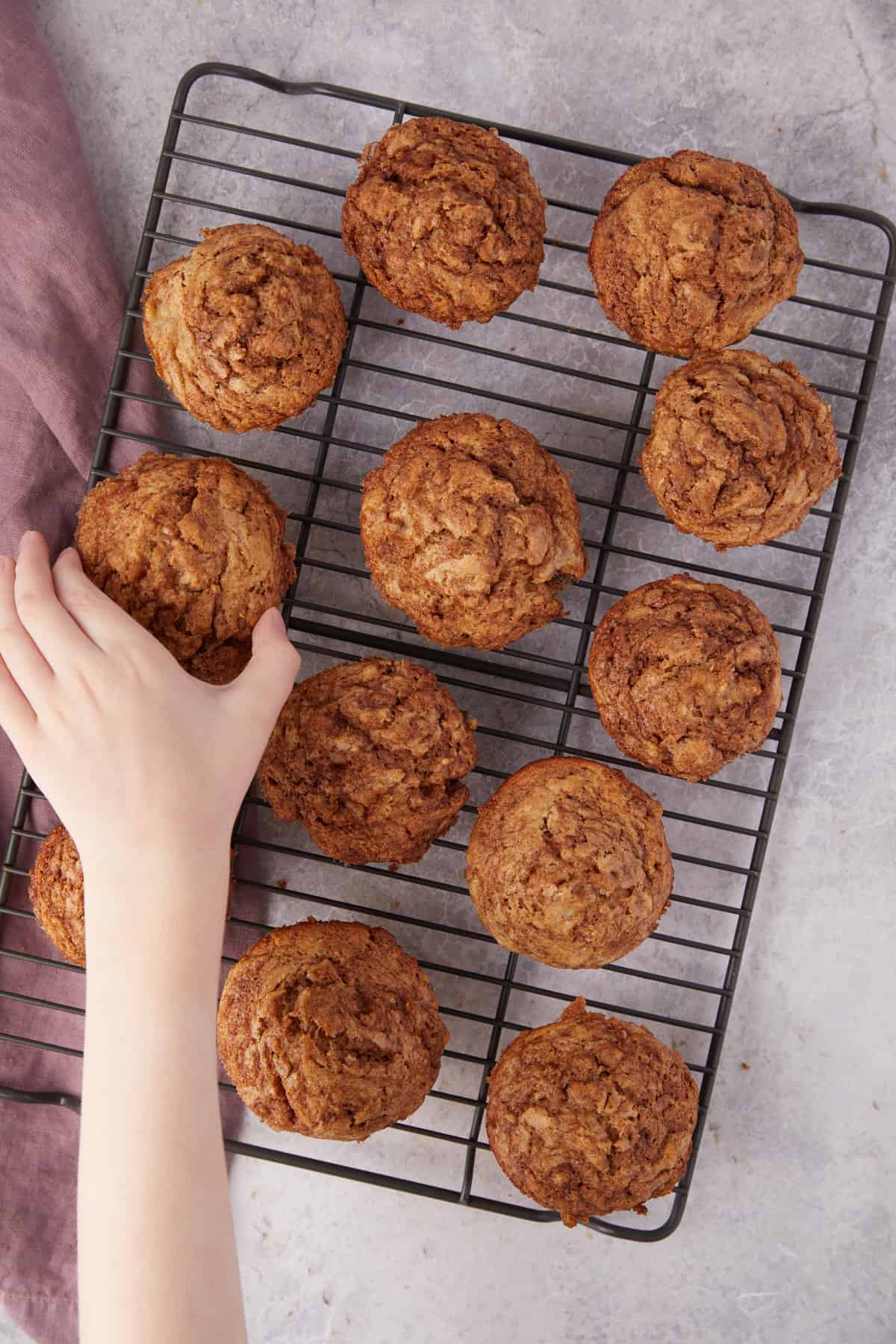 This is my son's hand grabbing for these as soon as they came out of the oven. The smell of the cinnamon wafting through the house was something he couldn't resist! He has a deep affection for cinnamon after he was introduced to cinnamon in this cinnamon-maple-chunky-applesauce, recipe.
Why You and the kids will Love this recipe!
Irresistible Taste: The natural sweetness of ripe bananas combined with the warm and comforting flavor of cinnamon creates a flavor profile that kids love. These muffins provide a delicious and satisfying snack option that can easily become a kid favorite.
Fun and Easy to Make: Involving my kids in the baking process can be a great way to spend quality time together and foster their creativity. Cinnamon banana muffins are relatively simple to make, making them an ideal recipe for them to participate in. They help me mash the bananas, mix the batter, and create the cinnamon swirls.
Portable and On-the-Go: My kids are often on the move, whether it's for school, extracurricular activities, or family outings. Cinnamon banana muffins are a convenient and portable snack that can be packed in lunchboxes or taken on the go. They provide a wholesome and homemade alternative to store-bought snacks, ensuring that they have a tasty treat.
INGREDIENTS YOU'LL NEED
This recipe is great to make with kids. It's really easy and made with ingredients you can find in your pantry!
Ripe bananas, mashed – do not use fully blackened bananas as they tend to have too much moisture. Ripe but not too ripe bananas give the batter structure, so the muffins bakes up fluffy and light.
Granulated Sugar – Sugar enhances the overall flavor profile of the muffins, bringing out the natural flavors of other ingredients and contributing to a well-rounded taste.
Melted unsalted butter – Unsalted butter allows us to control the salt, this is why I always use unsalted butter in baking. My favorite store brand of butter is Land O' Lakes.
Sour cream – Sour cream is a fantastic addition to muffin recipes because it has some unique qualities. This helps the muffins rise and form those beautiful crowns in the oven. You can replace it with plain yogurt.
Buttermilk – Like in these healthy apple muffins, buttermilk brings a pleasant tang and adds very little fat. It also helps to tenderize gluten, giving baked goods a softer texture and more body.
Eggs– Eggs are essential in muffin recipes as they provide structure and moisture, and contribute to the light and fluffy texture.
Vanilla extract– Adding pure vanilla extract to muffins enhances the overall flavor profile by adding a subtle yet delightful sweetness and aroma.
All-Purpose Flour-All-purpose flour is a go-to choice because it works wonders for achieving that perfect crumb texture. It strikes a great balance between providing structure and ensuring the muffins turn out tender and moist.
Cinnamon and cloves – these seasonings are high in eugenol, the same compound that gives ripe bananas their distinctive flavor and aroma. These help deepen the banana flavor of the muffins and are a spice combo that I also use in the banana carrot muffins.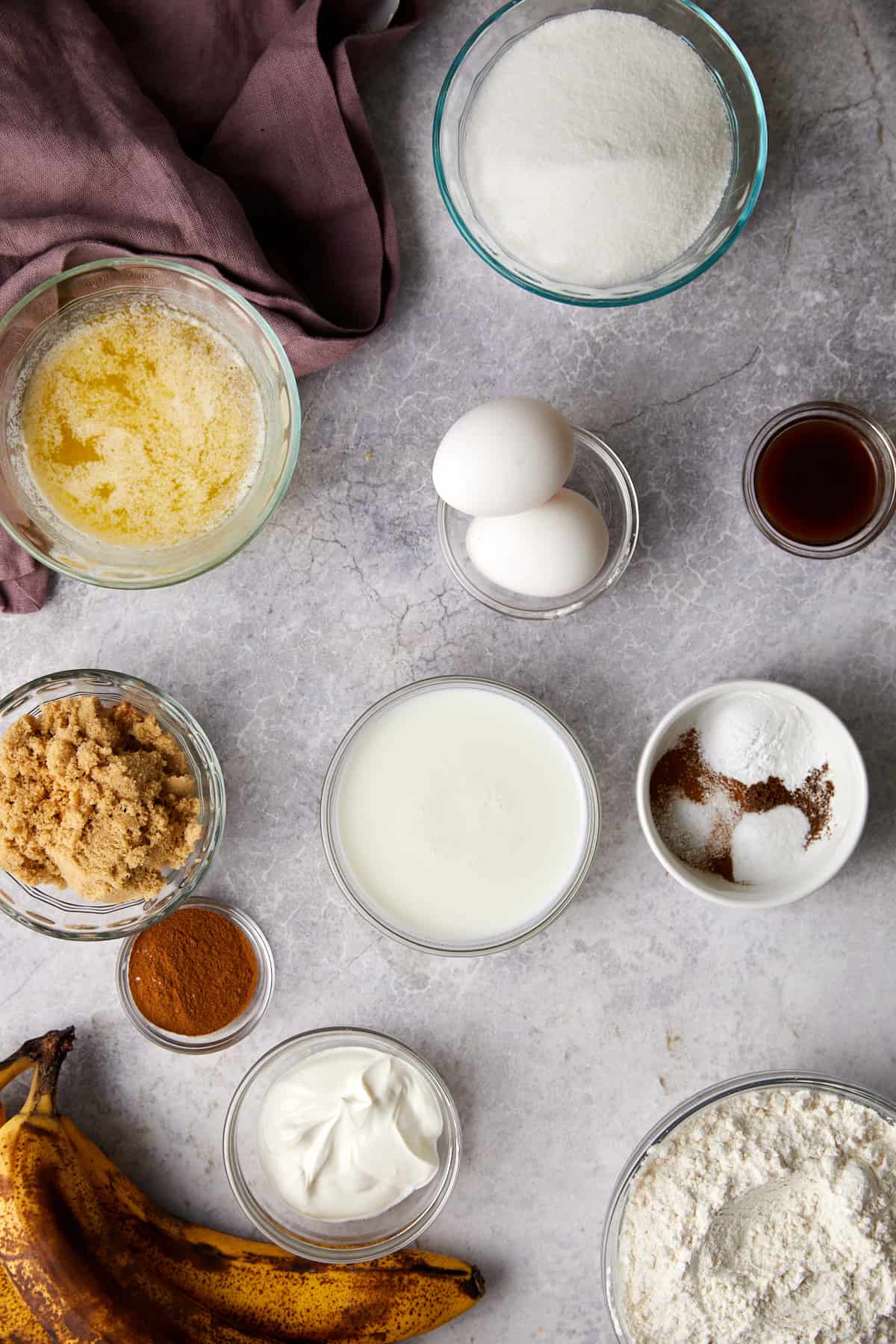 HOW TO MAKE CINNAMON BANANA MUFFINS
STEP 1: Mash bananas, (you will need 4 large bananas or 5 medium-sized bananas (2 cups – 460 grams)) with a potato masher in a medium-sized bowl and set aside. Spray a 12-count muffin pan with nonstick spray.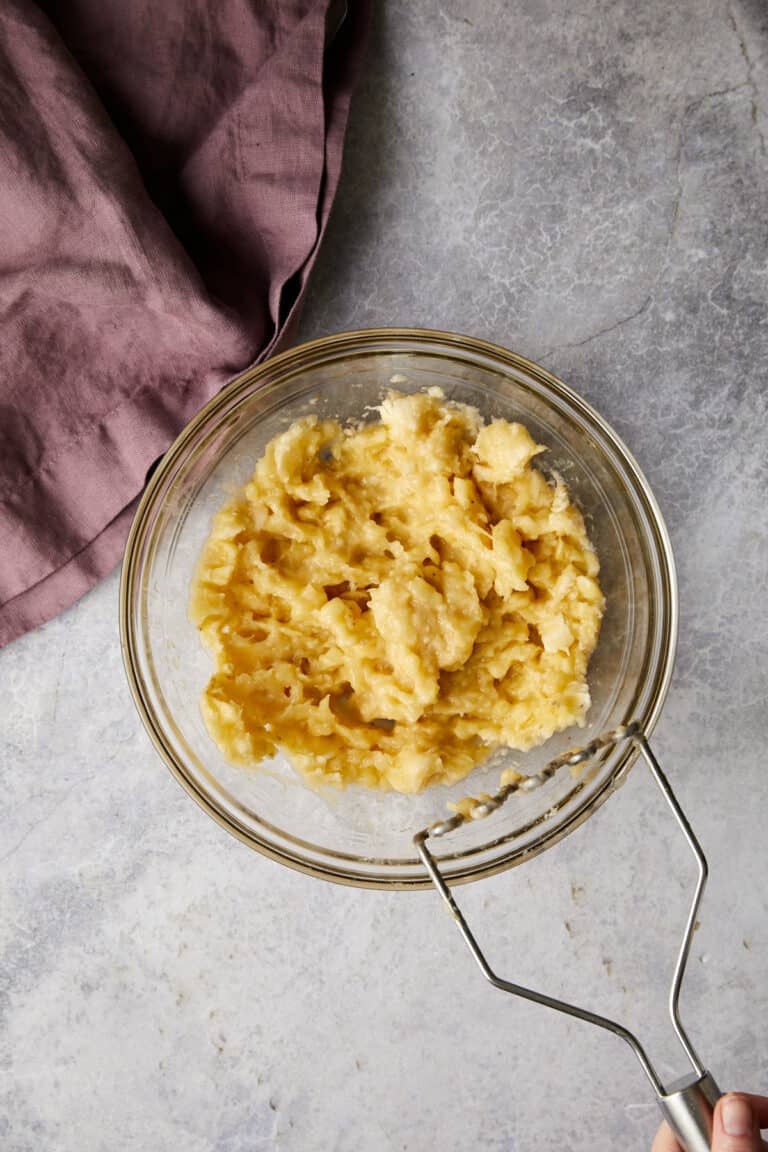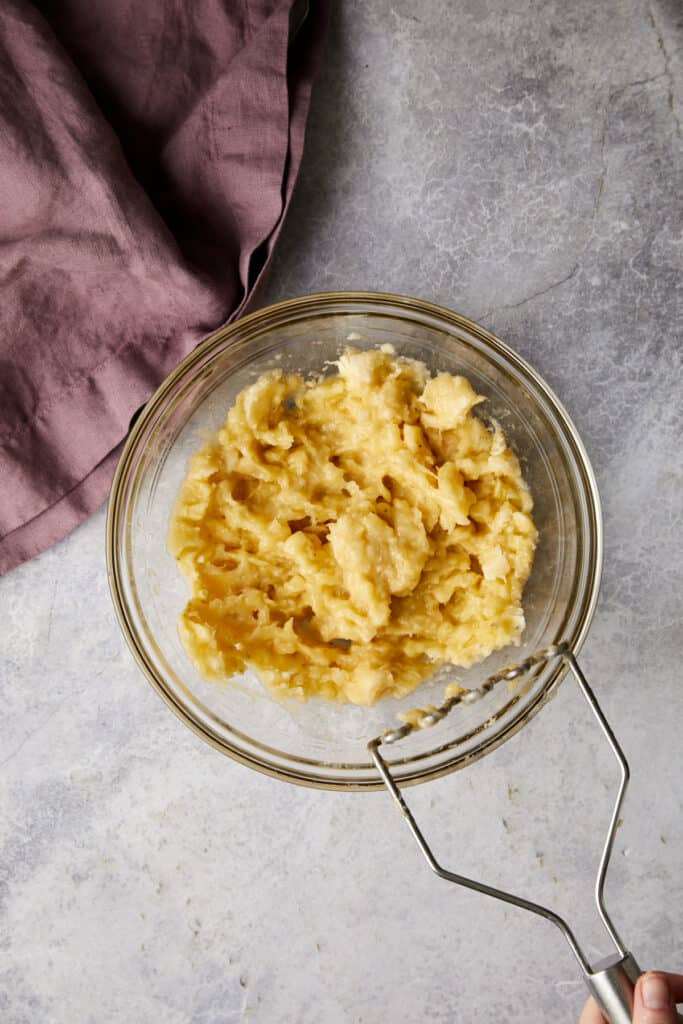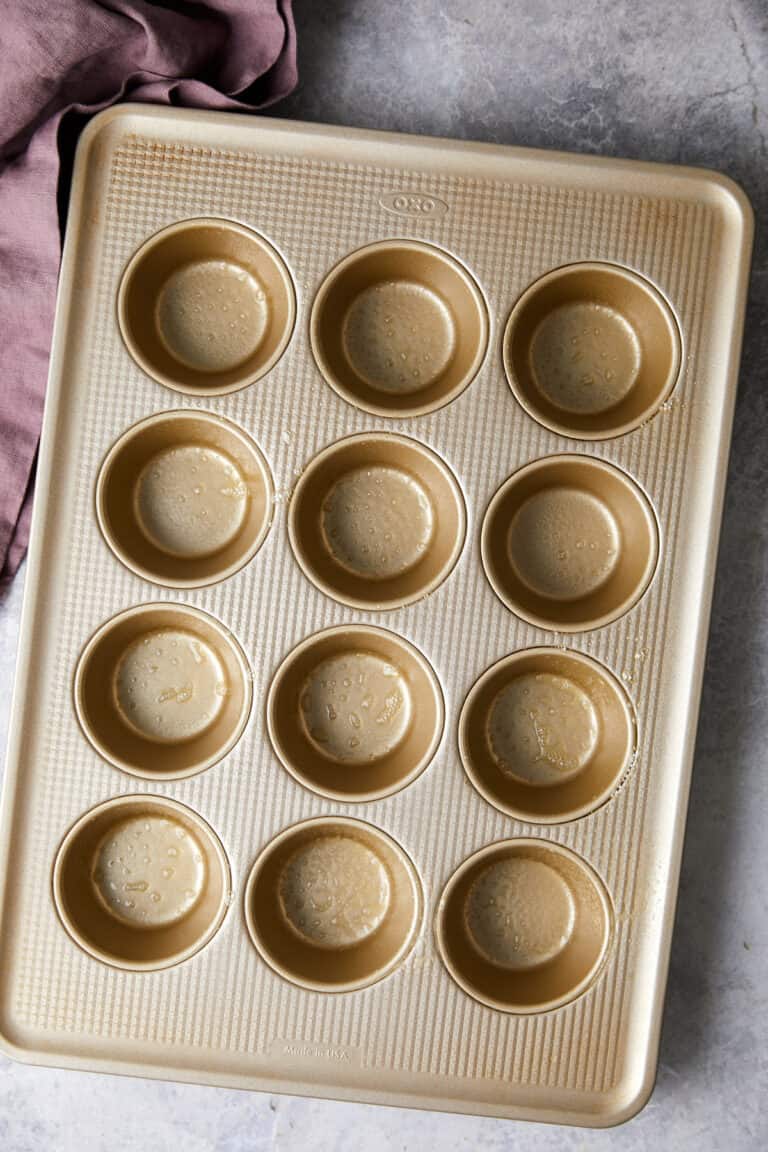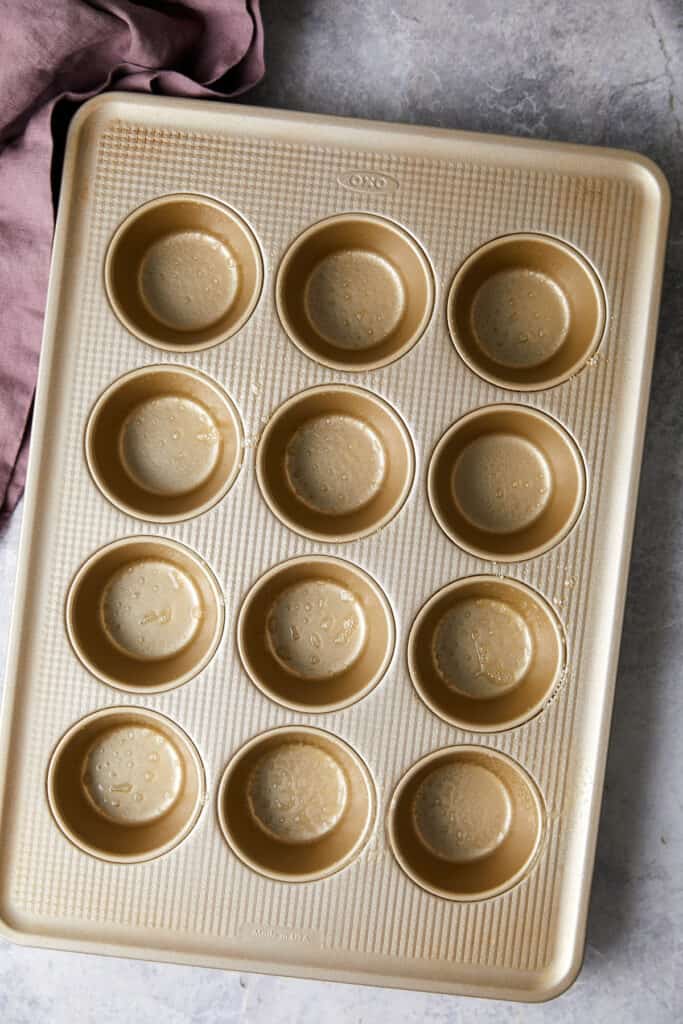 STEP 2: Whisk all-purpose flour, baking powder, baking soda, salt, cinnamon, and ground cloves together in a large bowl. Set aside.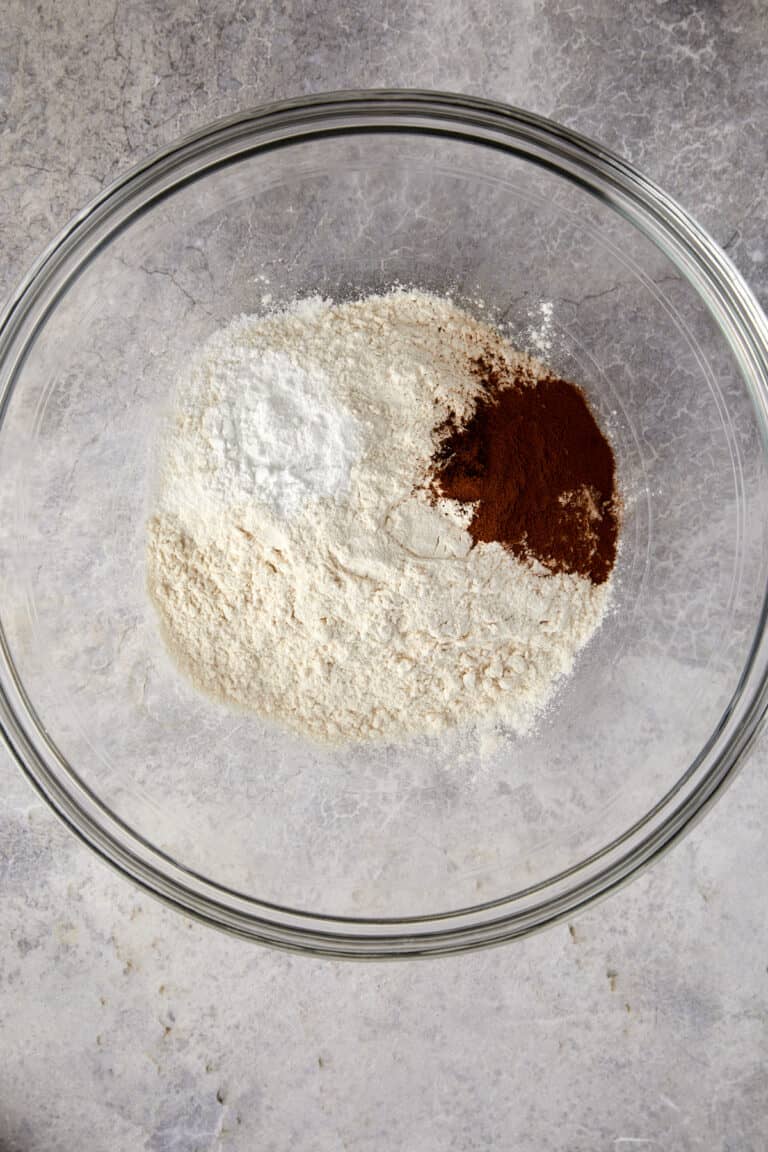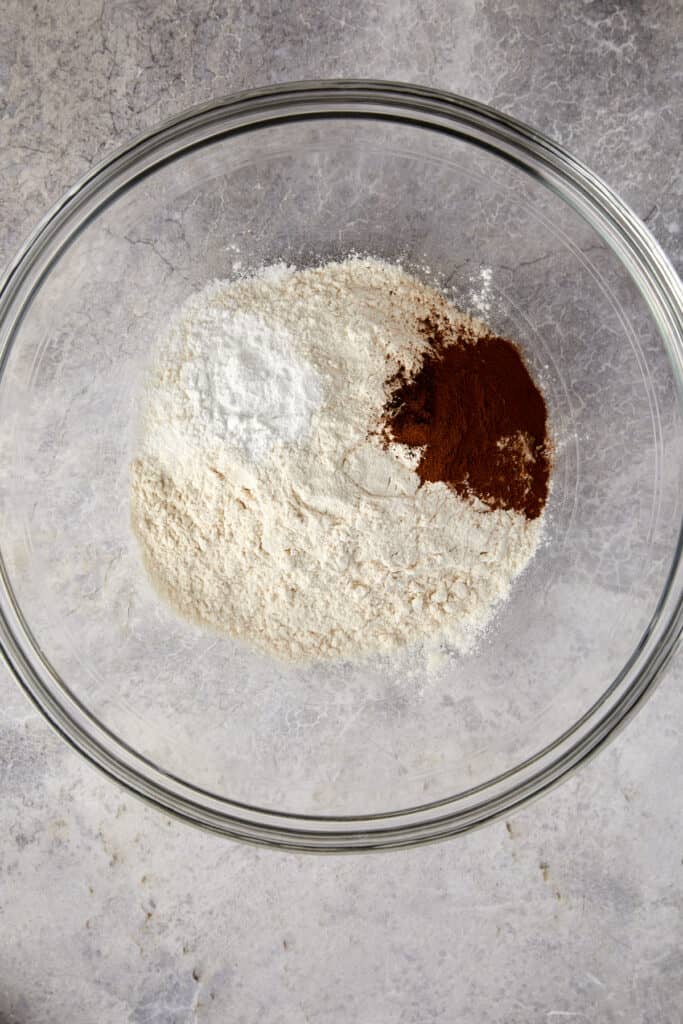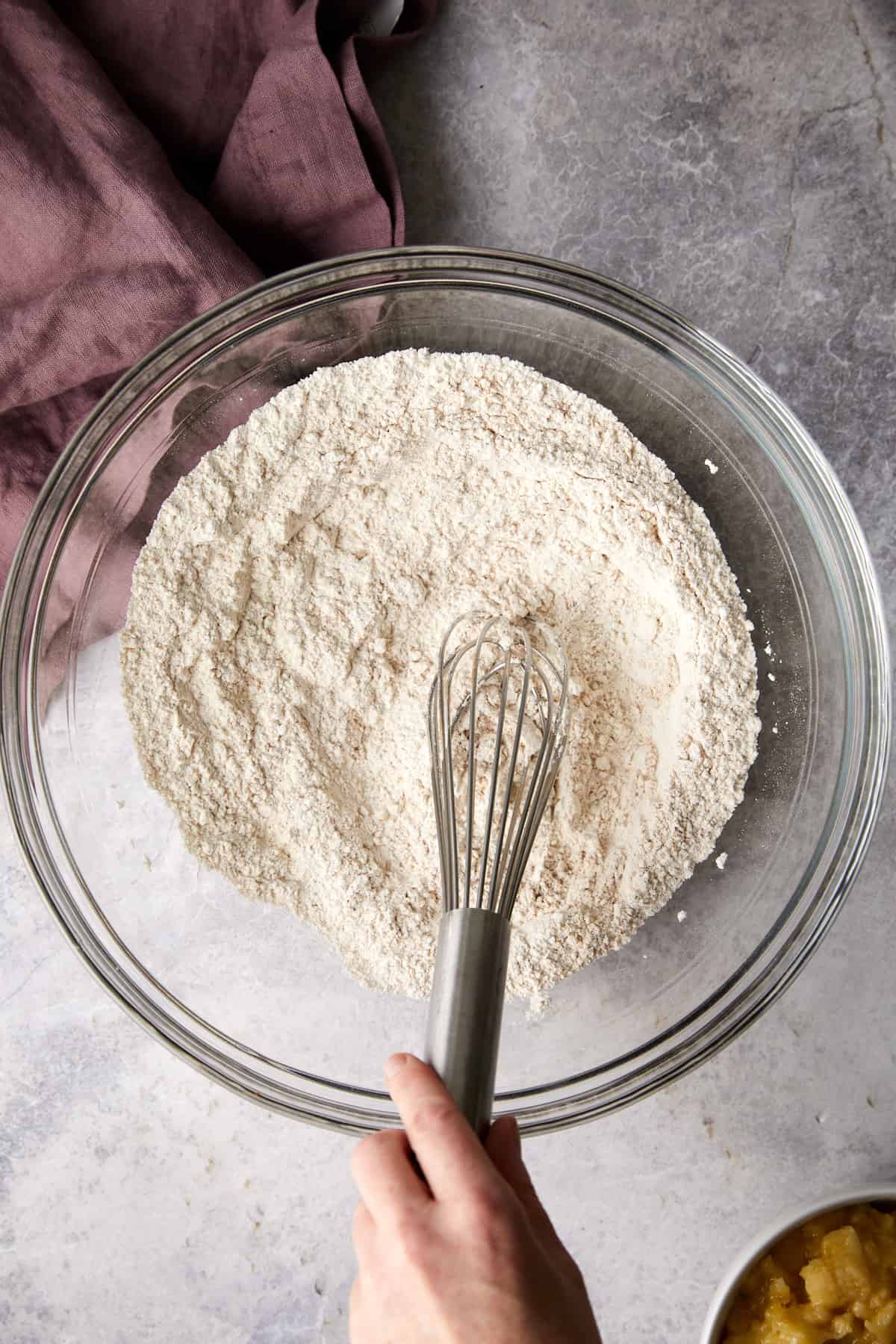 STEP 3: Mix wet ingredients. Whisk eggs and sugar together in a medium-sized bowl for 30 seconds.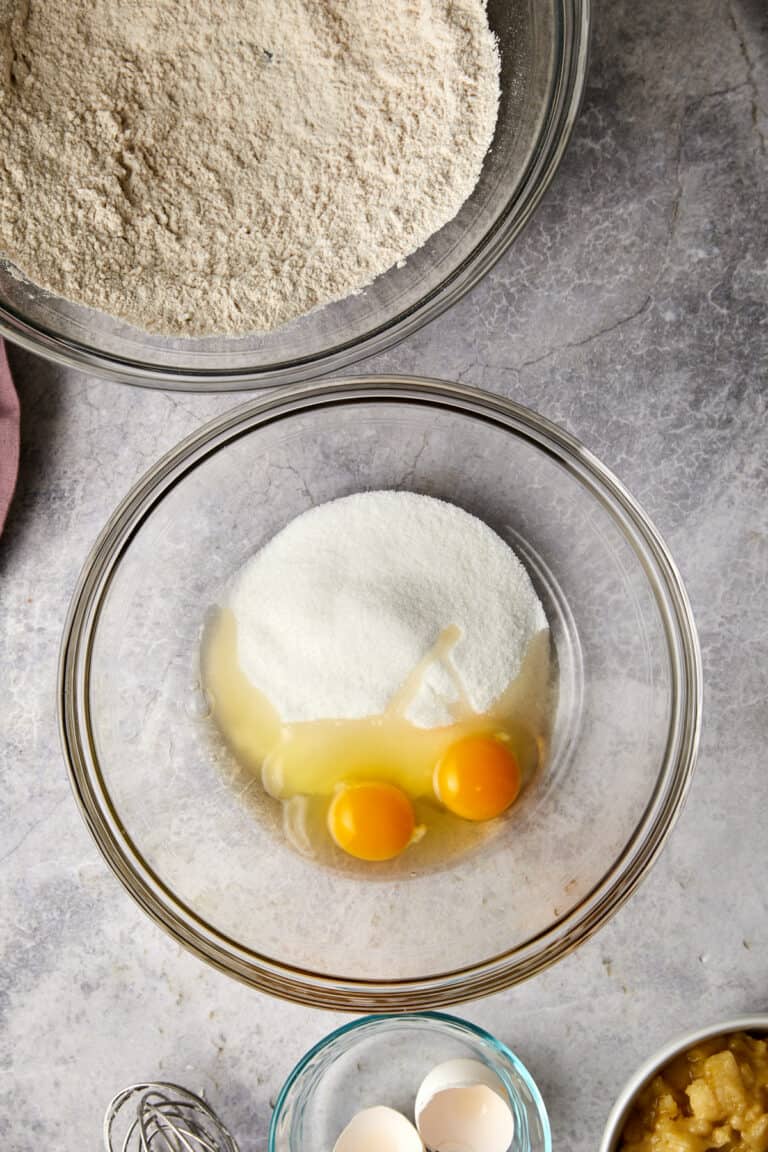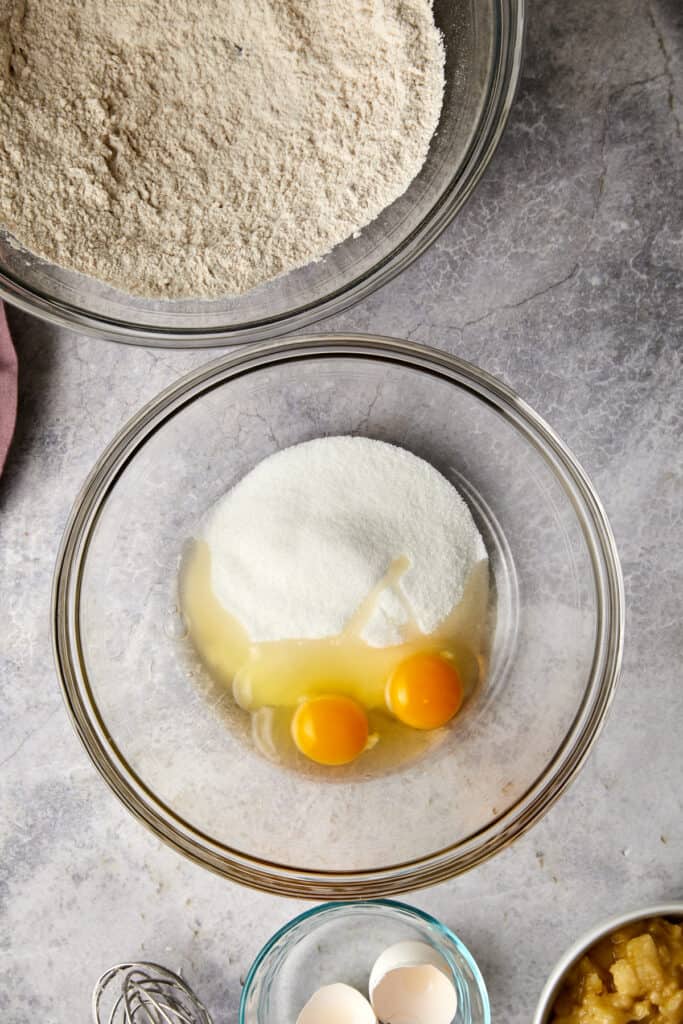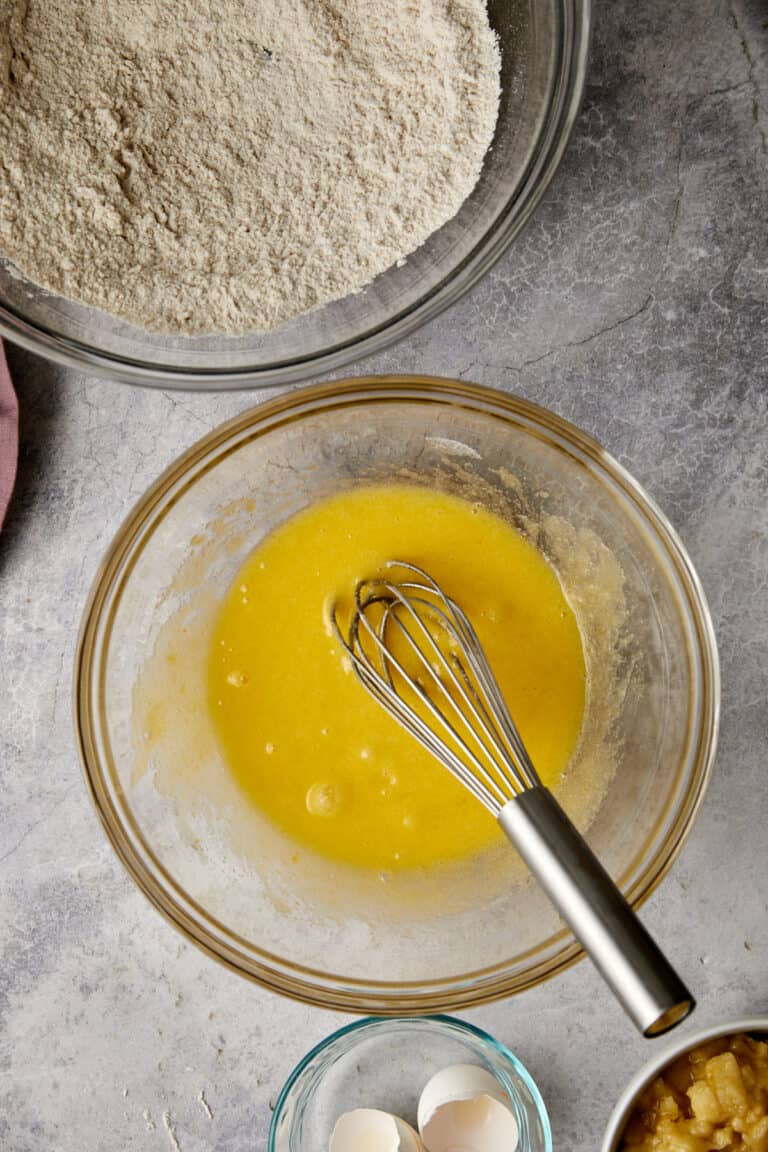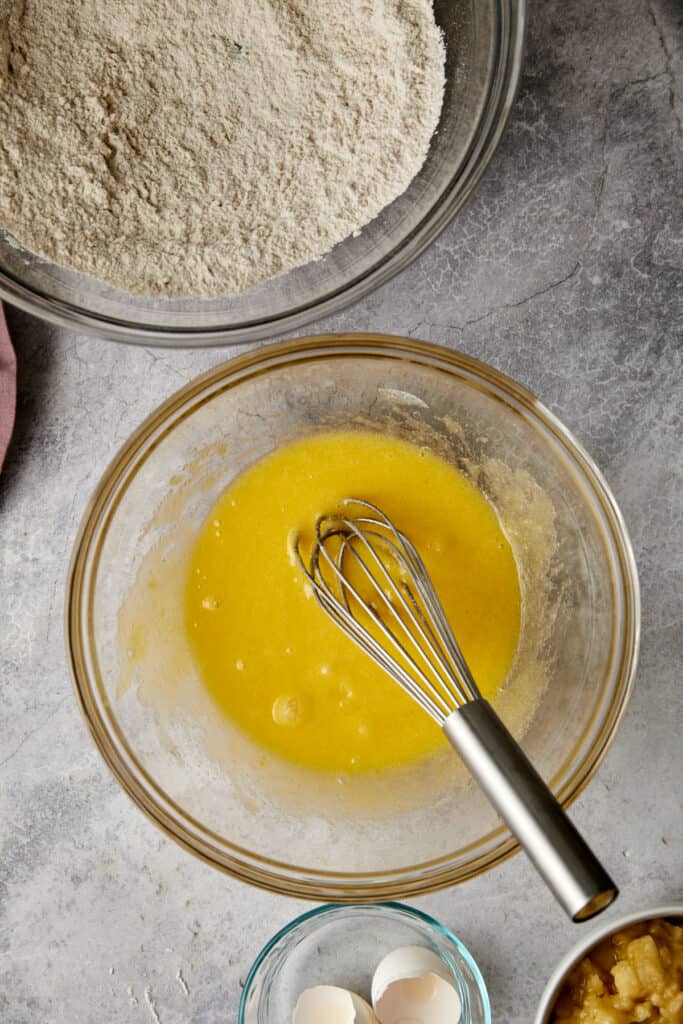 STEP 4: Add buttermilk, melted butter, sour cream, and vanilla to the egg and sugar mixture. Whisk until combined. Add in bananas and whisk until combined.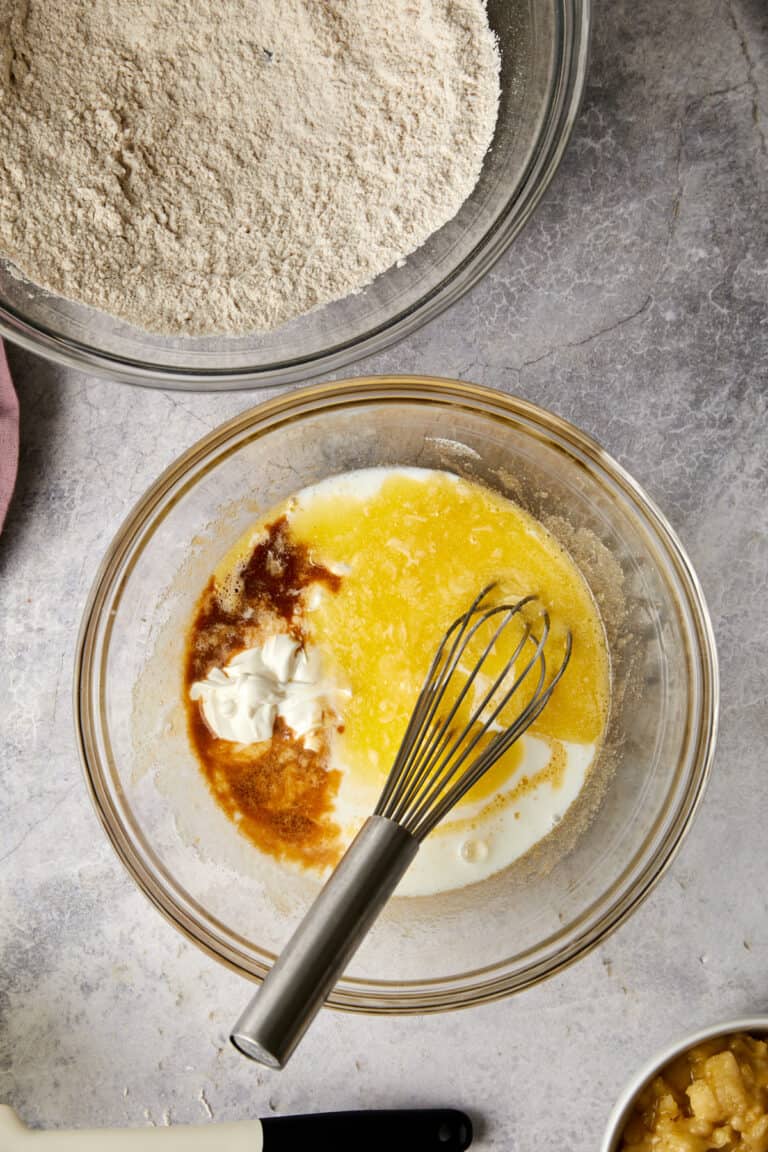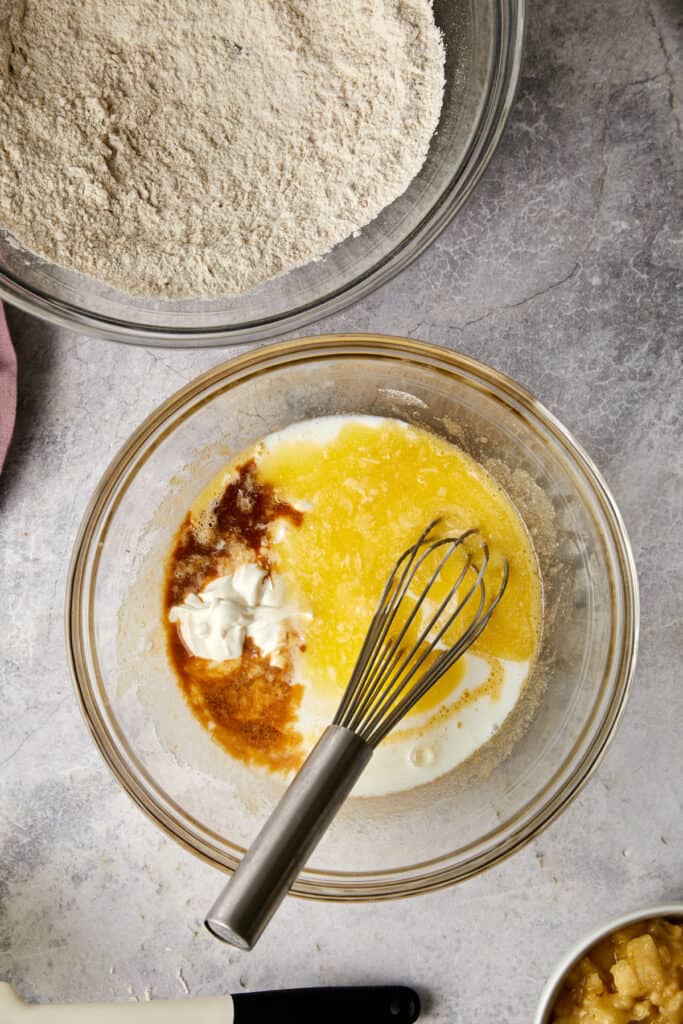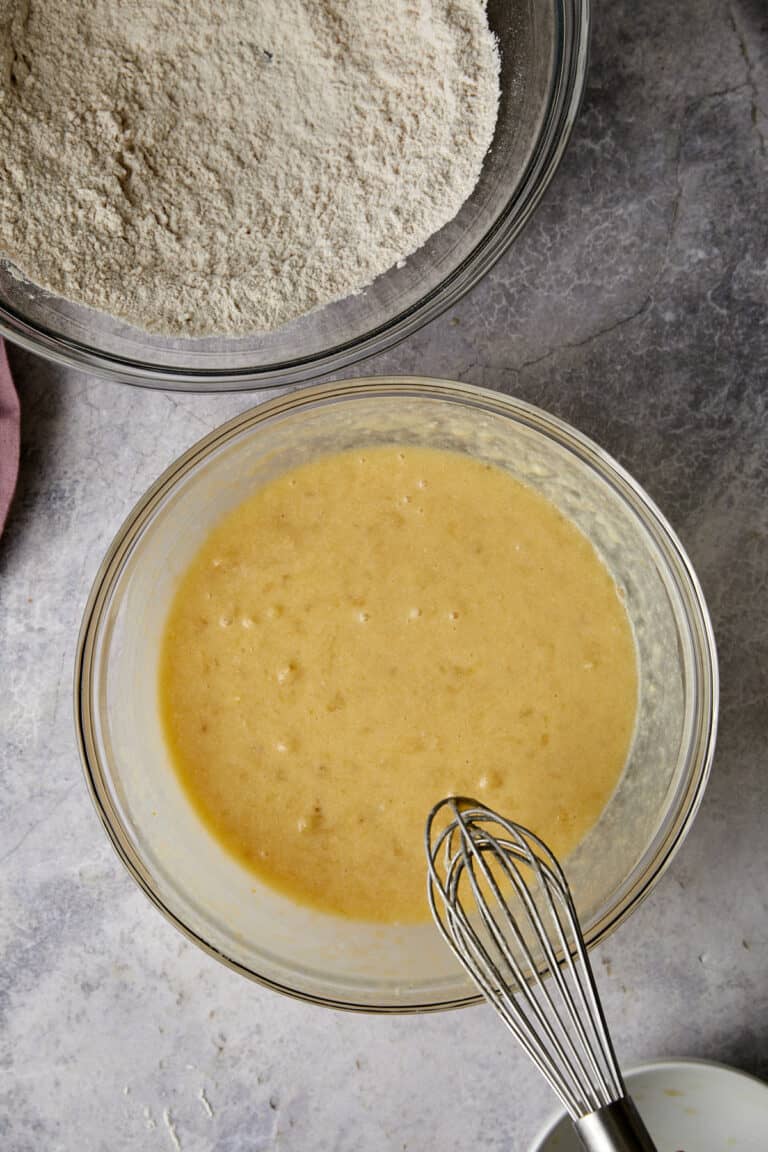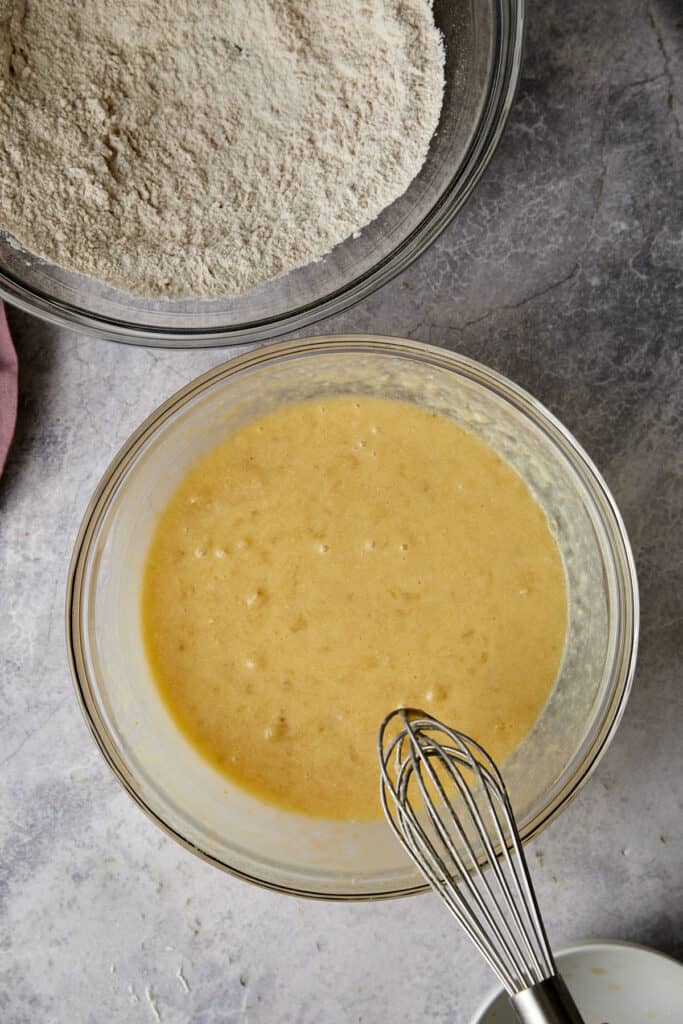 STEP 5: Wet and dry ingredients. Add wet ingredients to the dry ingredients and whisk until all the flour is moistened. Be careful to not overmix.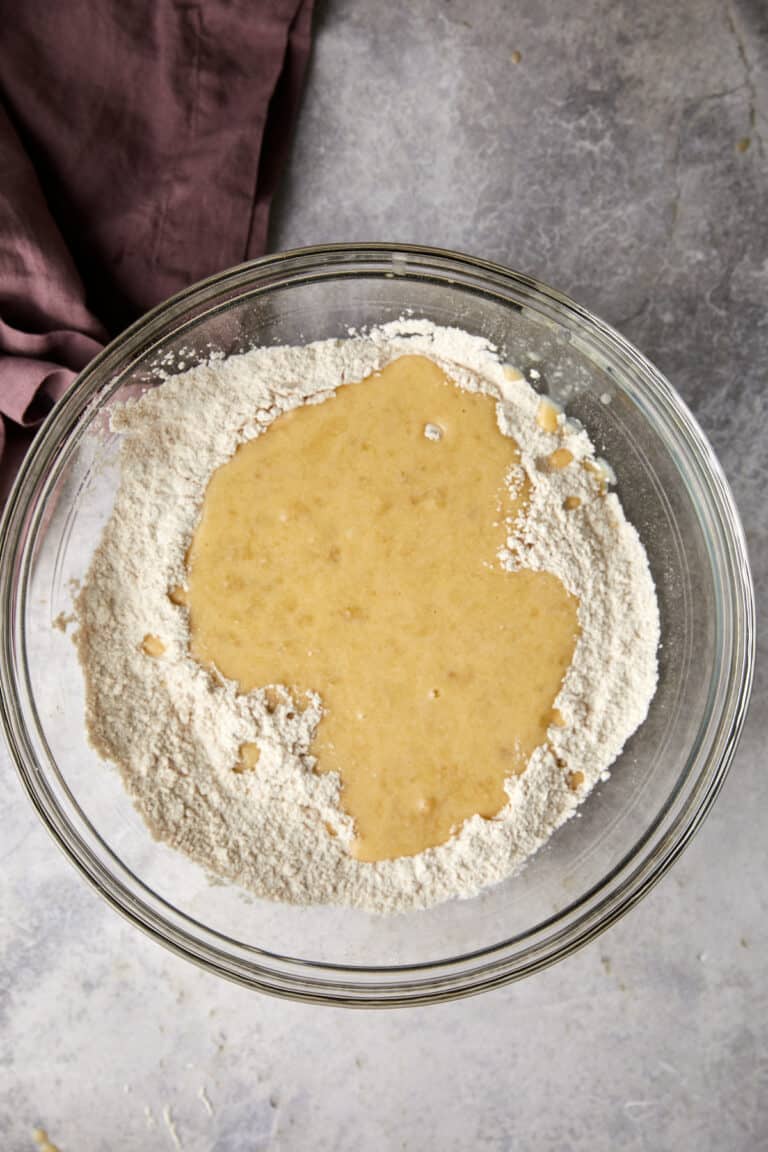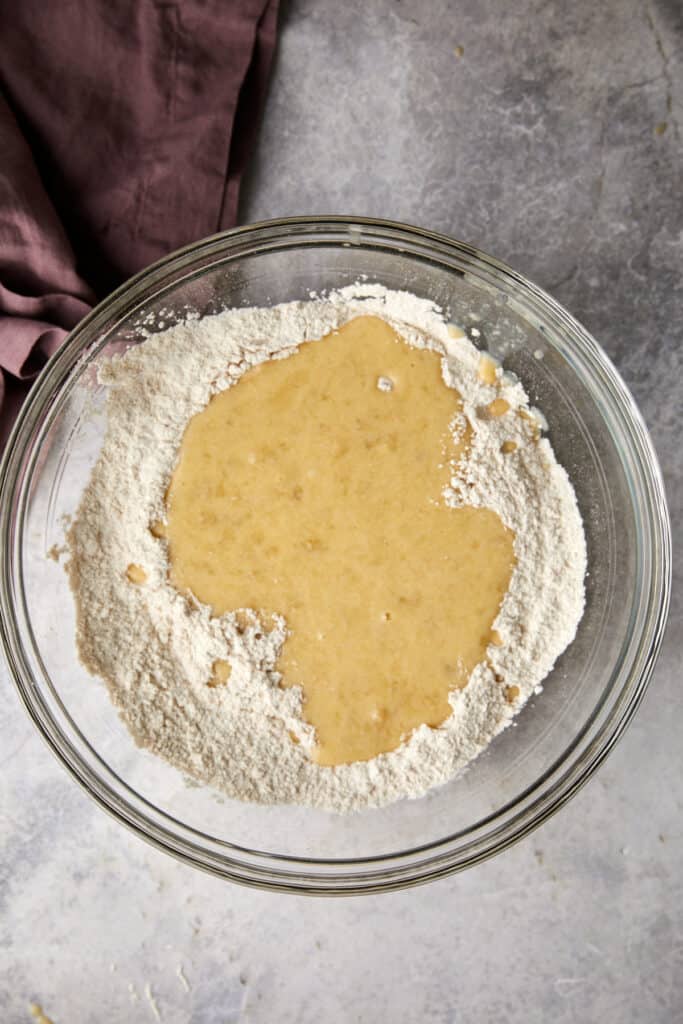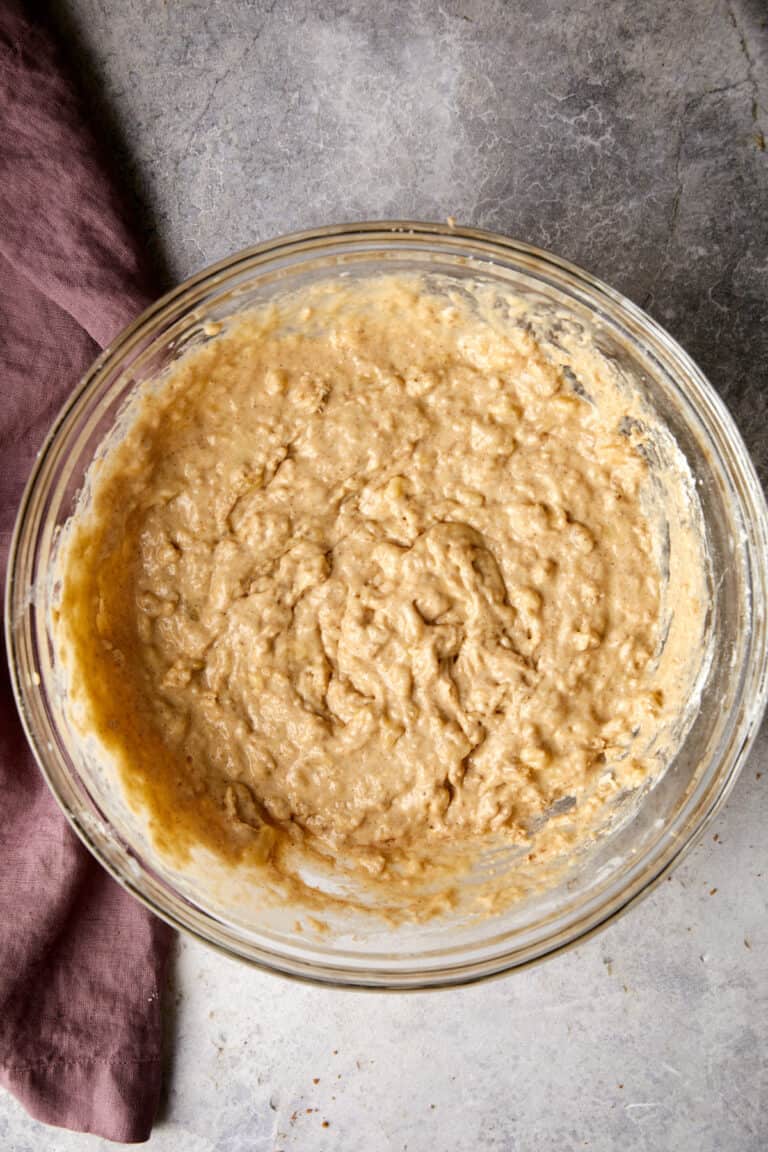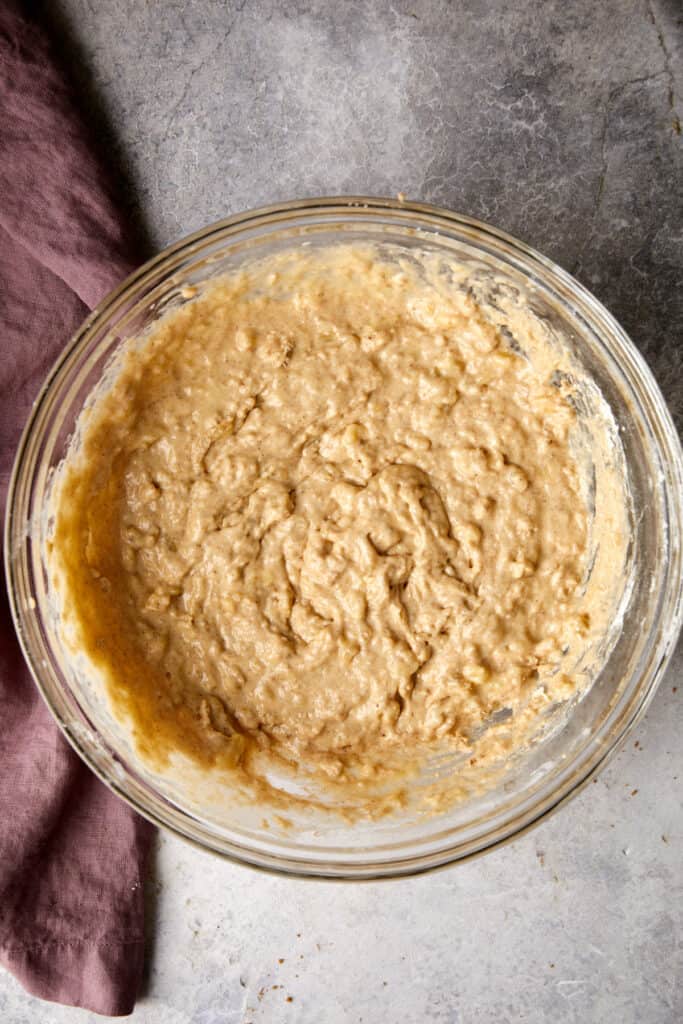 STEP 6: Scoop batter into muffin tin and fill to the top. The easiest way to do this is with a portion scoop.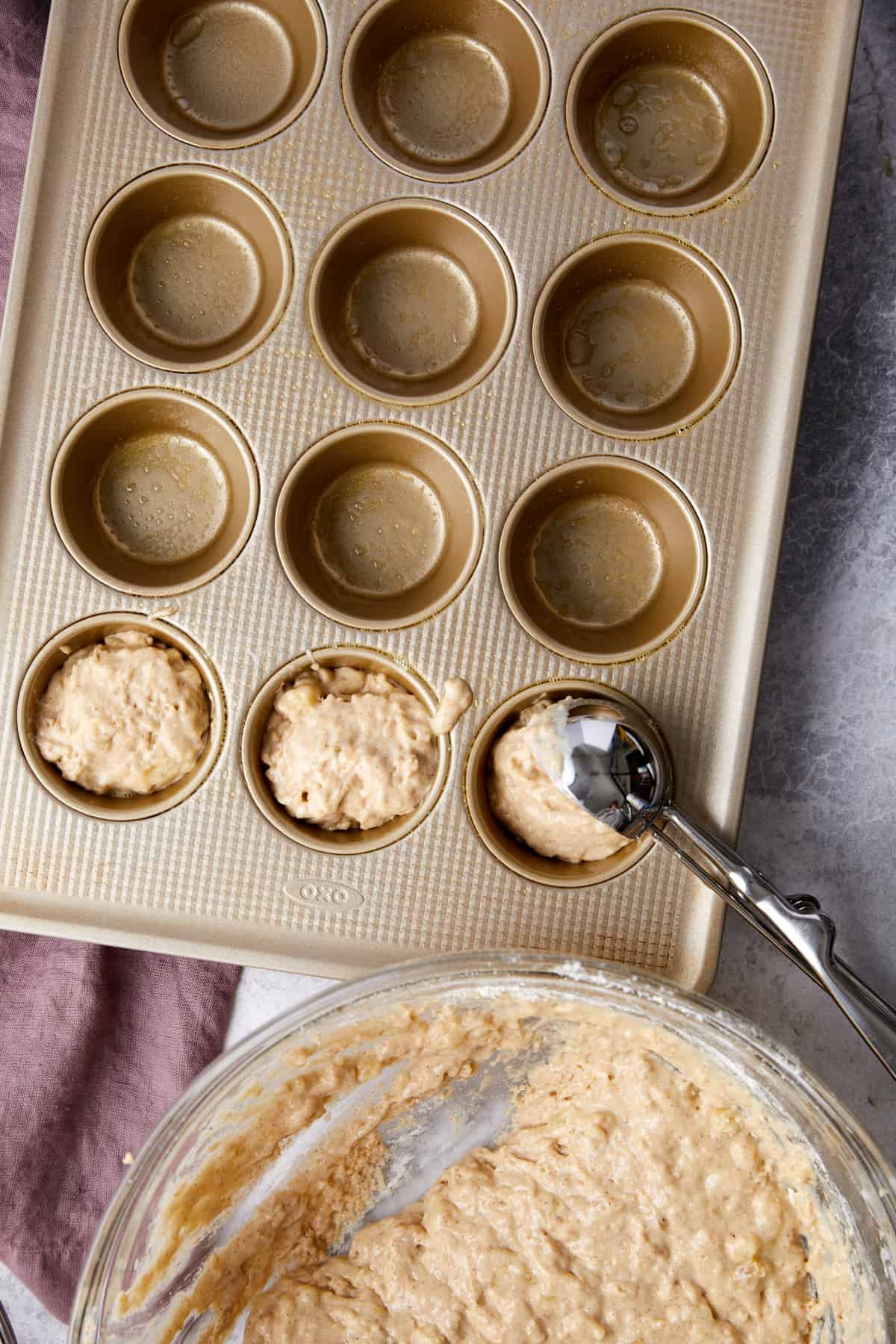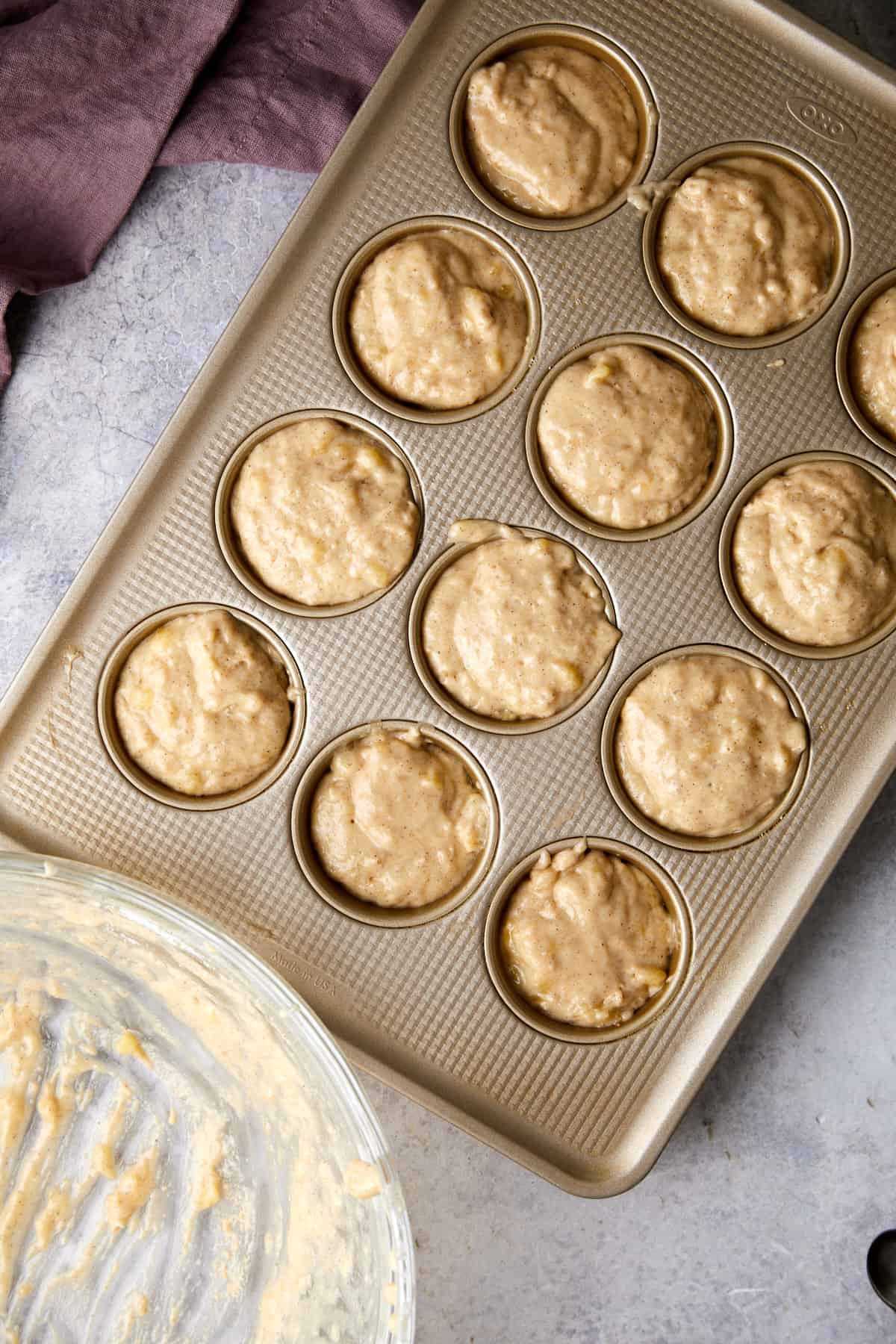 STEP 7: Add the cinnamon sugar topping. Whisk the brown sugar, cinnamon, and salt in a medium size bowl until well combined. Scoop one teaspoon of sugar mixture over the top of each muffin. Use a toothpick to swirl the sugar cinnamon into the batter.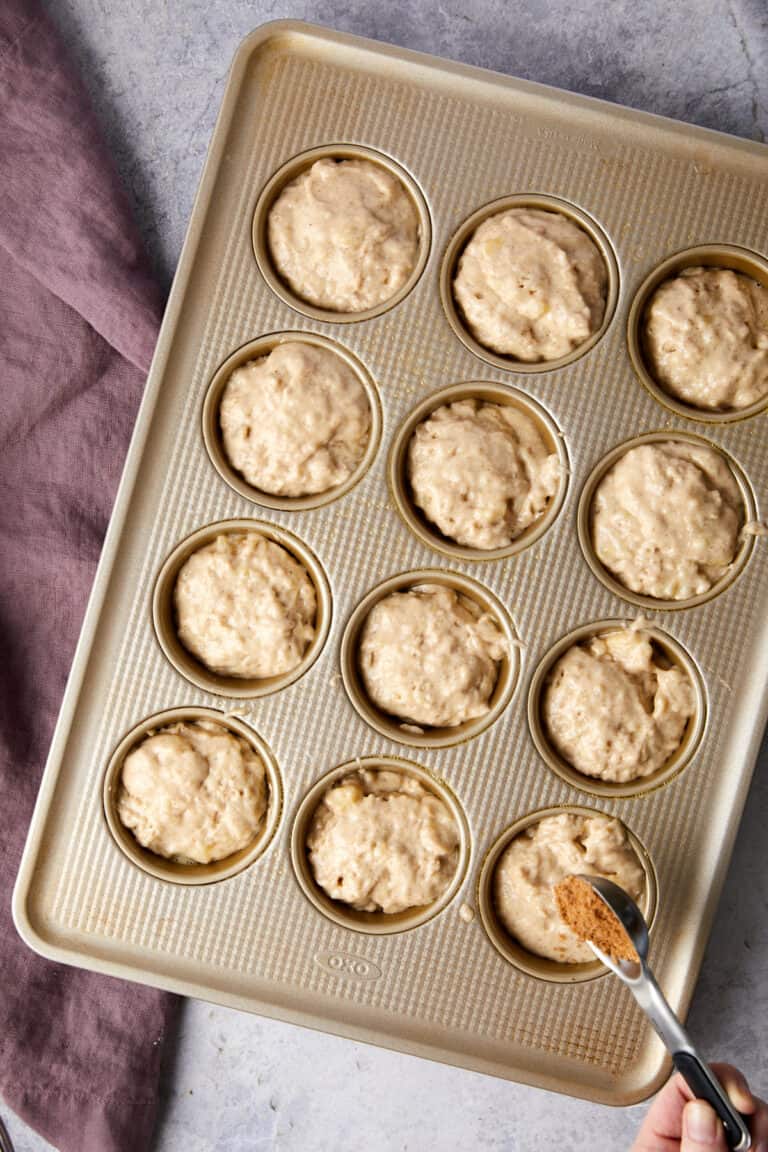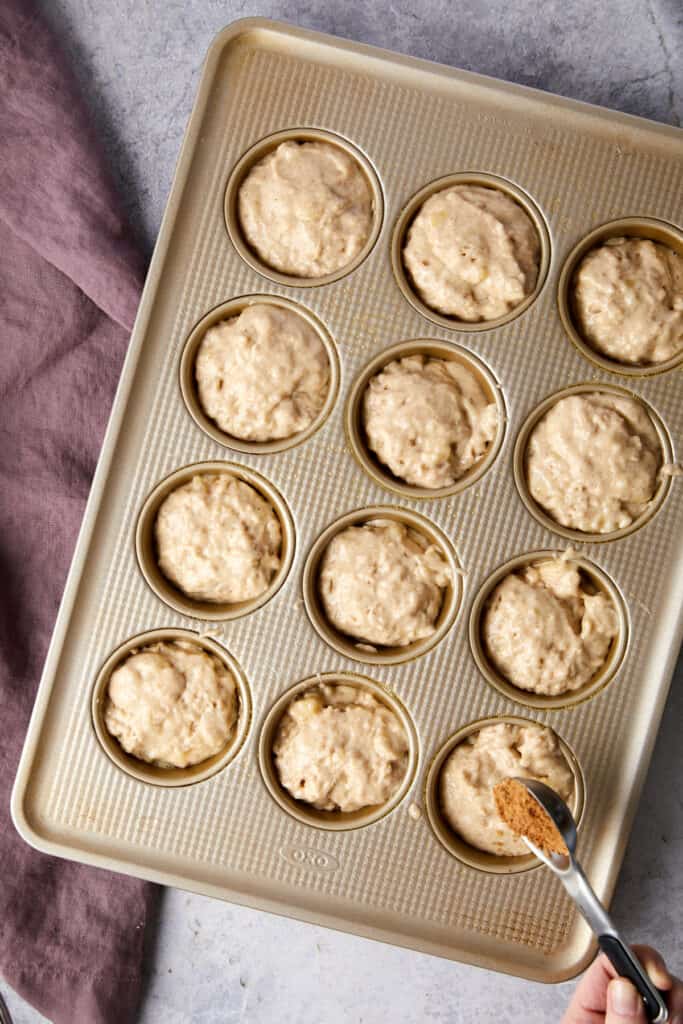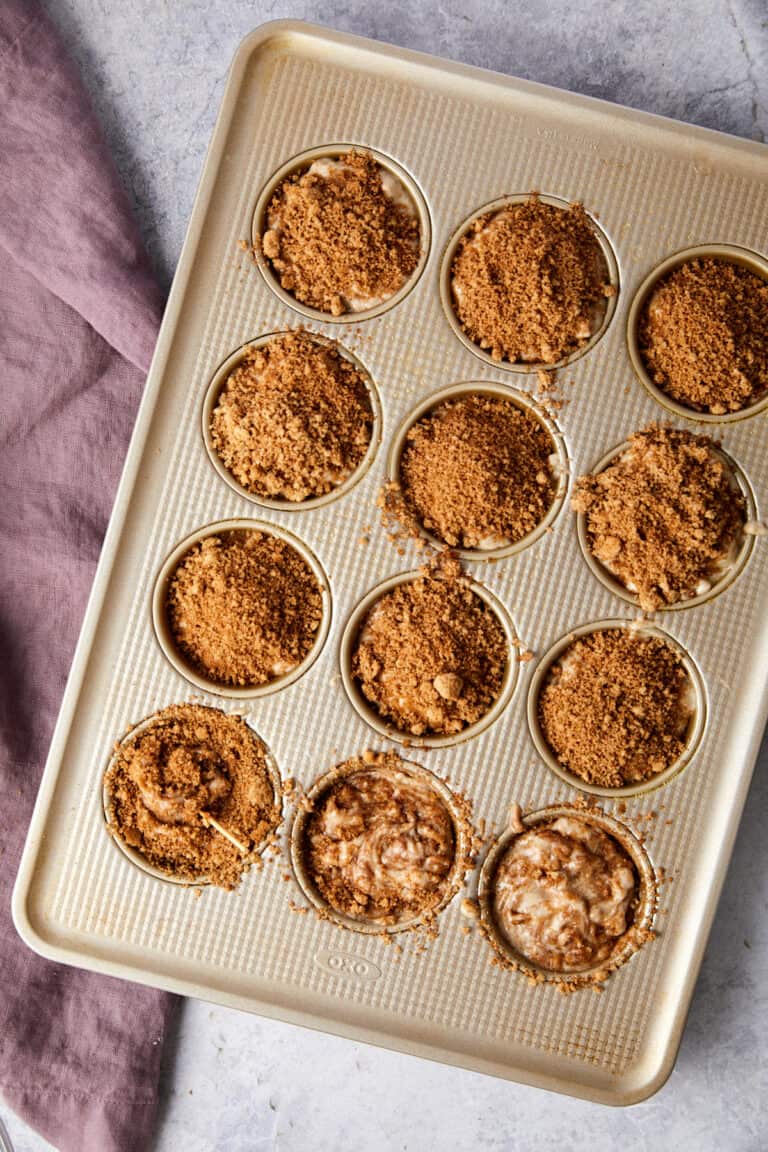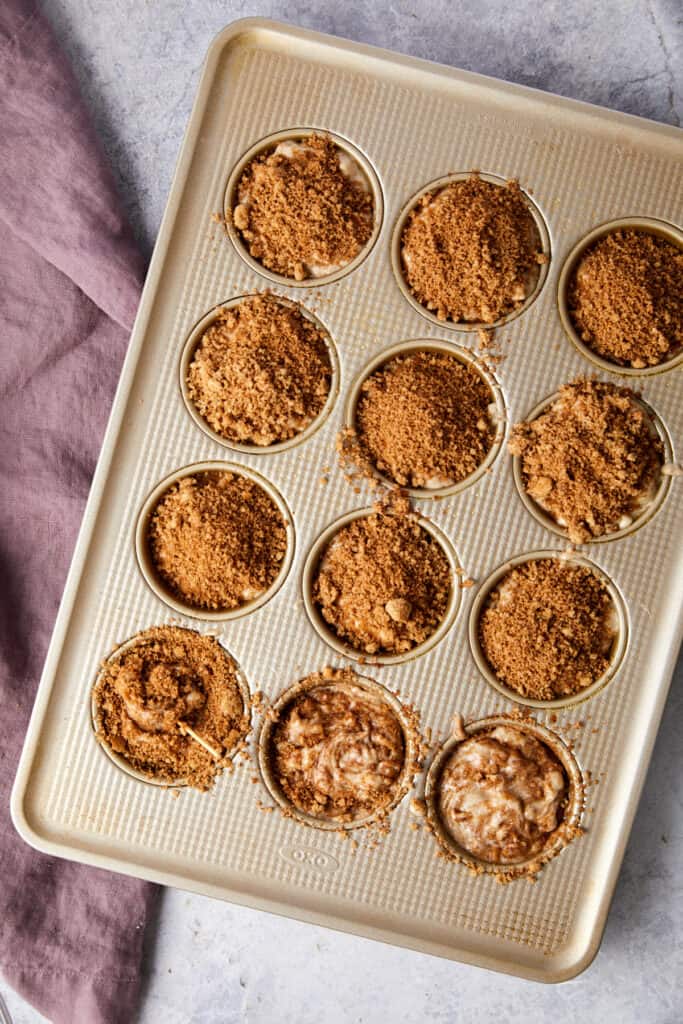 STEP 8: Bake at 400°F (204°C) for 20-23 minutes or until a toothpick inserted in the center comes out clean. Allow the muffins to cool for 5 minutes in the muffin pan, then transfer to a wire rack to continue cooling.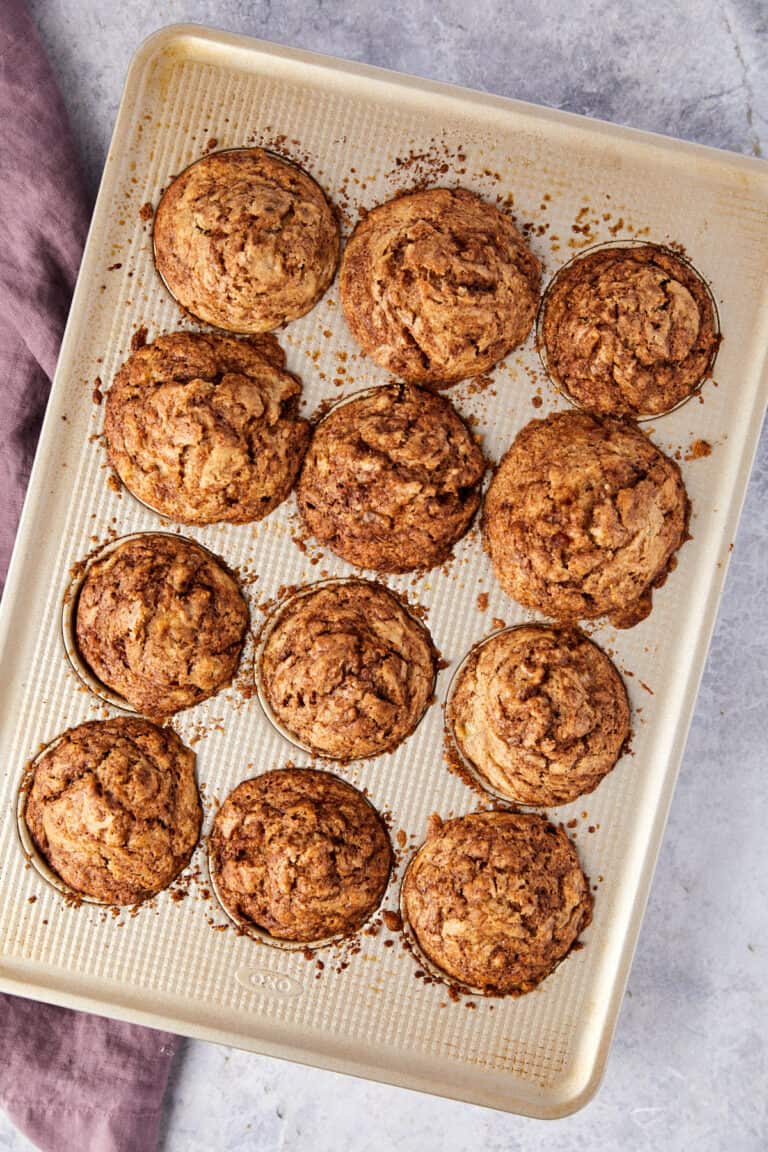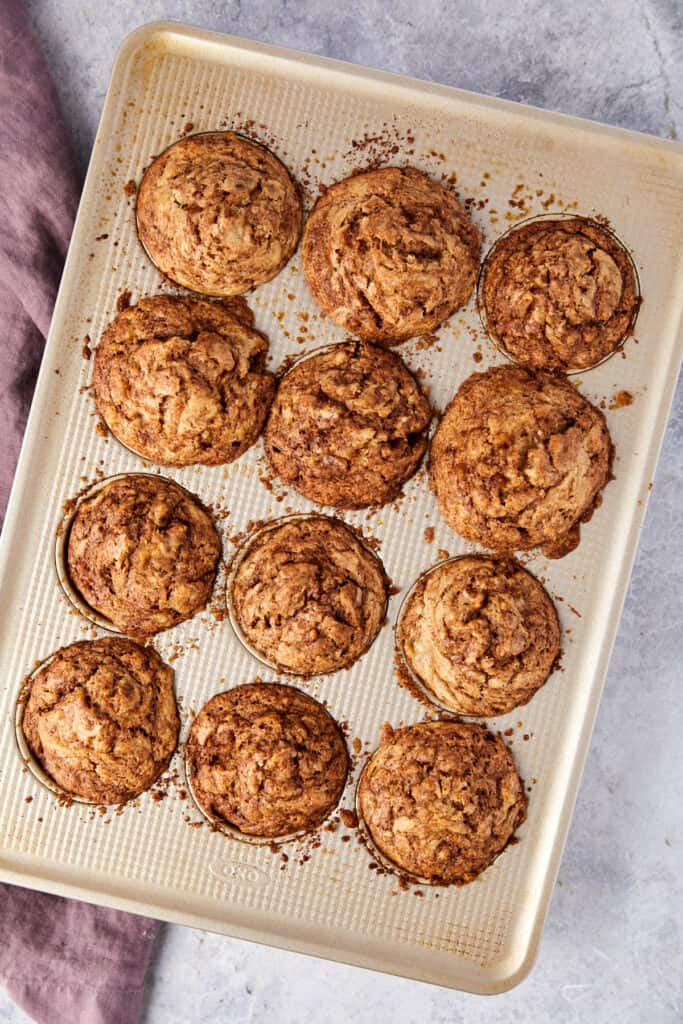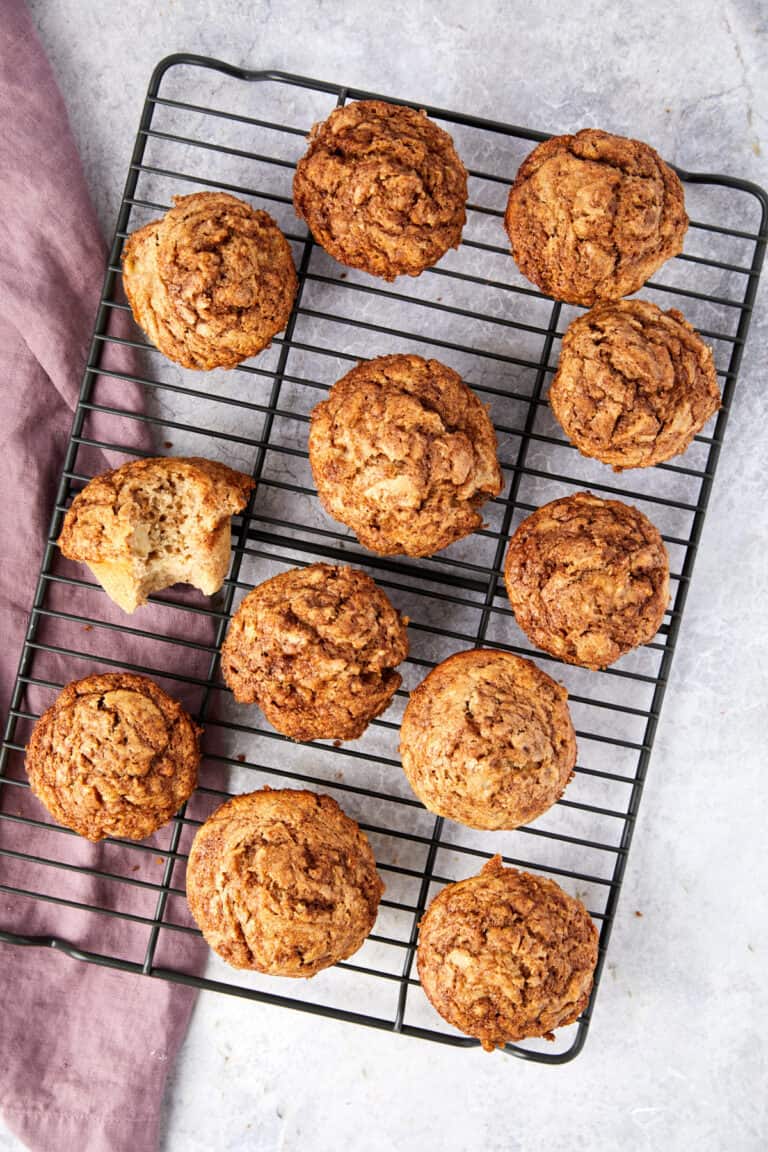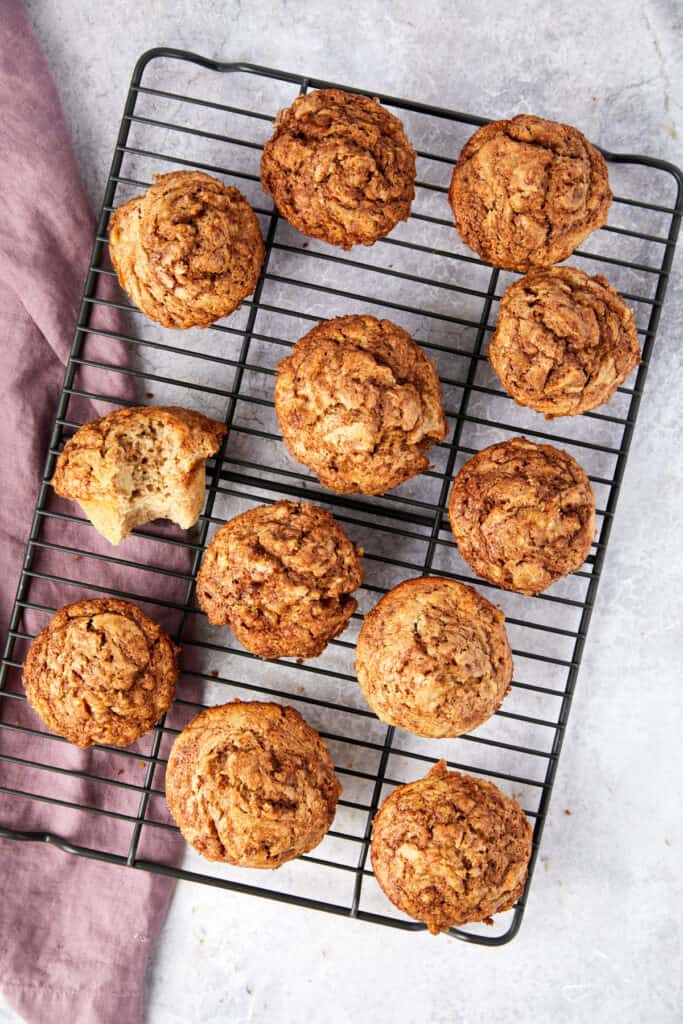 CINNAMON BANANA MUFFINS TIPS & TRICKS
Ripe Bananas: Use fully ripe bananas with brown spots on the skin. They are sweeter, more flavorful, and easier to mash, resulting in moist and flavorful muffins.
Proper Mashing: Mash the bananas well to ensure a smooth and consistent texture throughout the muffins. You can use a fork or a potato masher for this.
Don't Overmix: When combining the wet and dry ingredients, avoid overmixing the batter. Overmixing can lead to dense and tough muffins. Mix until just combined, when all the flour is moistened.
Properly Grease the Muffin Tin: To prevent the muffins from sticking to the pan, make sure to grease the muffin tin properly. You can use butter, cooking spray, or muffin liners.
Oven Temperature: Preheat the oven to the specified temperature before baking the muffins. This ensures even baking and proper rise.
Cool Properly: Once baked, allow the muffins to cool in the muffin tin for 10 minutes before transferring them to a wire rack to cool completely. This helps to set the structure and prevents them from becoming too fragile.
Storage: Store leftover muffins in an airtight container at room temperature for up to 2-3 days. If you want to keep them longer, you can refrigerate them for up to a week or freeze them for a couple of months.
By following these tips and tricks, you'll be well on your way to creating perfect cinnamon banana muffins every time. Enjoy the delightful aroma and deliciousness of homemade muffins that are sure to be a hit!
VARITATIONS
Cinnamon Banana Nut Muffins: Enhance the nutty goodness of cinnamon banana muffins by adding a variety of chopped nuts such as walnuts, pecans, or almonds to the batter. You could add 1 cup of chopped nuts if desired. The combination of warm cinnamon, sweet bananas, and crunchy nuts creates a delightful texture and flavor experience in every bite. Or check out this banana bread with pecans recipe instead!
Chocolate Chip Cinnamon Banana Muffins: Indulge your sweet tooth by incorporating chocolate chips into your cinnamon banana muffins. The combination of rich chocolate and warm cinnamon pairs harmoniously with the sweetness of bananas. Each bite will be filled with gooey chocolate pockets, making these muffins an irresistible treat for chocolate lovers. I recommend adding 1 cup if desired.
SUBSTITUTIONS
Flour Substitutions:

Whole Wheat Flour: You can substitute up to 50% whole wheat flour for all-purpose flour in most recipes. If you want to use more than 50% whole wheat flour, you may need to adjust the other ingredients in the recipe, such as the amount of liquid or leavening.
Gluten-Free Flour Blend: If you require a gluten-free option, use a gluten-free flour blend as a substitute for regular flour. Make sure to choose a blend suitable for baking.

Mix-In Substitutions:

Dried Fruits: Instead of chocolate chips or nuts, try adding 1 cup of dried fruits like cranberries or chopped dried apricots for a fruity twist.
Shredded Coconut: Add 1 cup of shredded coconut to the batter for extra texture and flavor.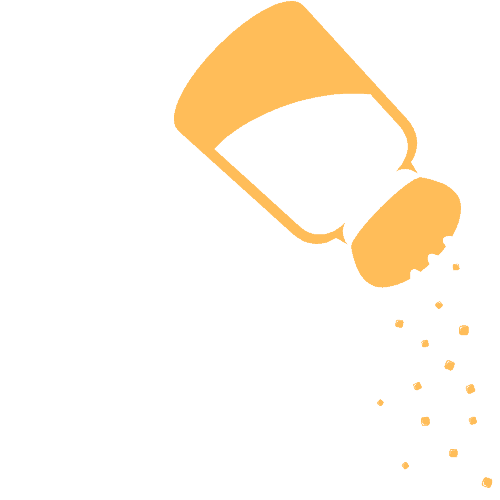 Sarah's Did You Know?
Did you know that cinnamon not only adds a delightful warmth and aroma to your baked goods but also boasts potential health benefits? It has been linked to improved blood sugar control, reduced inflammation, and even potential antibacterial properties. So, when you make these cinnamon banana muffins, you're adding a touch of goodness to your day!
STORAGE TIPS
These are wonderful warm straight out of the oven, but they also can be made ahead and freeze very well!
Be sure to allow the muffins to cool completely before storing. I recommend you move them to a wire rack for the quickest cooling time.
Leftovers. They will stay fresh in an airtight container at room temperature for 2 days, or in the refrigerator for about 5 days. If you choose to refrigerate them, I recommend heating them in the microwave for about 15 seconds before serving. Keep in mind that the texture of muffins will naturally change over time, and it's best to consume them within a day or two of baking for the freshest and most enjoyable texture.
Freezing. Once completely cooled, place them in a resealable freezer bag, then freeze for up to 3 months. You can either thaw them at room temperature or warm them up in the microwave when you're ready to enjoy. I freeze them right away and place the frozen muffin in my kid's lunch box so it is thawed by snack time!
FAQ's
Does cinnamon and banana go together?
Yes, cinnamon and banana are a wonderful flavor combination that complement each other beautifully. The warm and aromatic notes of cinnamon pair exceptionally well with the natural sweetness of bananas.
What should not be mixed with banana?
Citrus Fruits: Mixing citrus fruits, such as oranges or lemons, with bananas can result in an unpleasant flavor clash. The acidity of citrus fruits can overpower the natural sweetness of bananas and create an unbalanced taste.
Why is my banana muffin hard?
Overmixing the batter: Baking the muffins for too long or at a higher temperature than recommended can lead to dry and hard results. Make sure to follow the baking time and temperature specified in the recipe and check for doneness using a toothpick or cake tester.
Incorrect flour measurement: Using too much flour can make the muffins dense and dry. It's important to measure the flour accurately by spooning it into the measuring cup and leveling it off with a straight edge or use a food scale.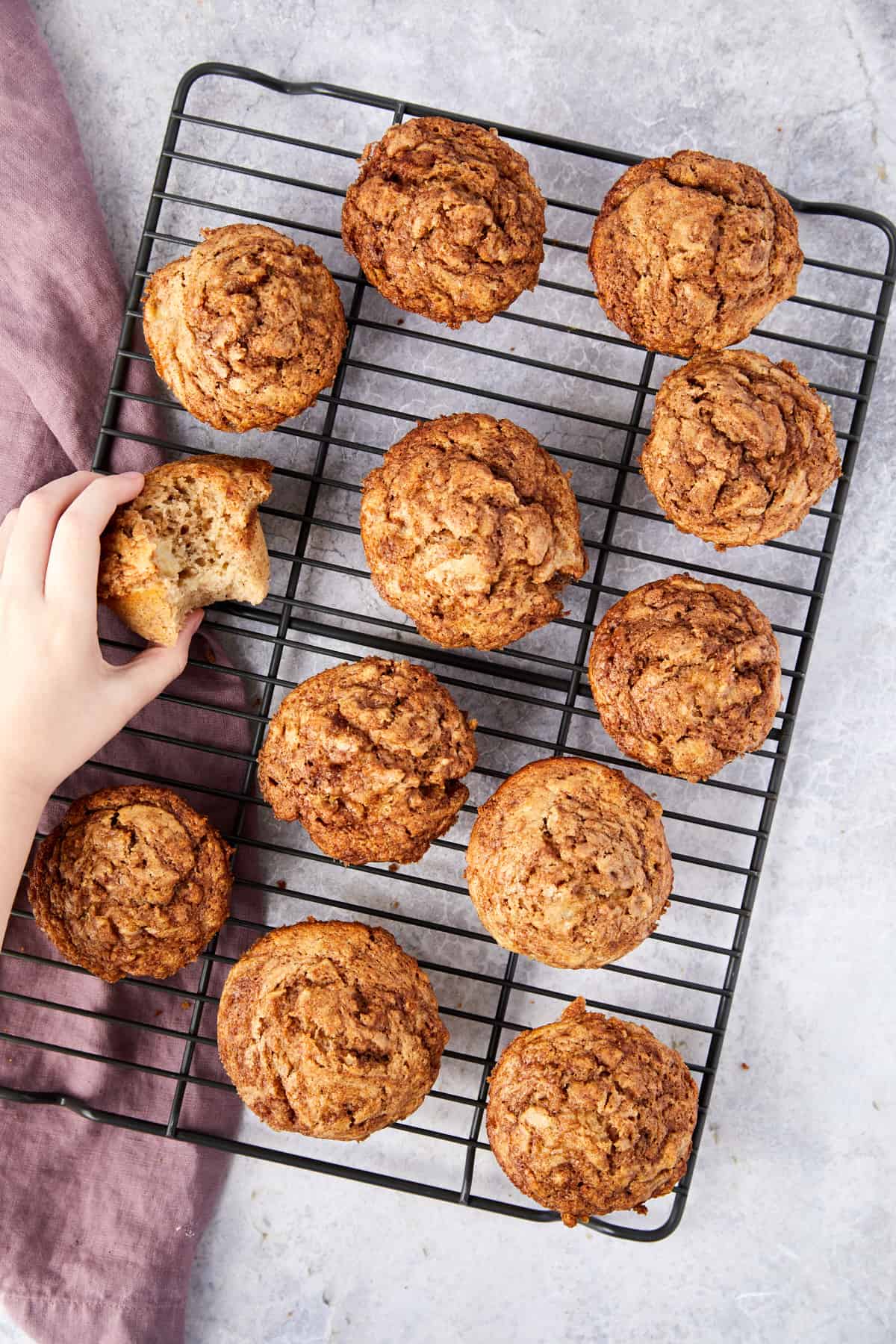 If you try these delicious cinnamon banana muffins let me know! Leave a comment and if your family loves it as much as mine does, be sure to give it a five-star ⭐️ rating! And, subscribe to our mailing list to receive more delicious recipes straight to your inbox.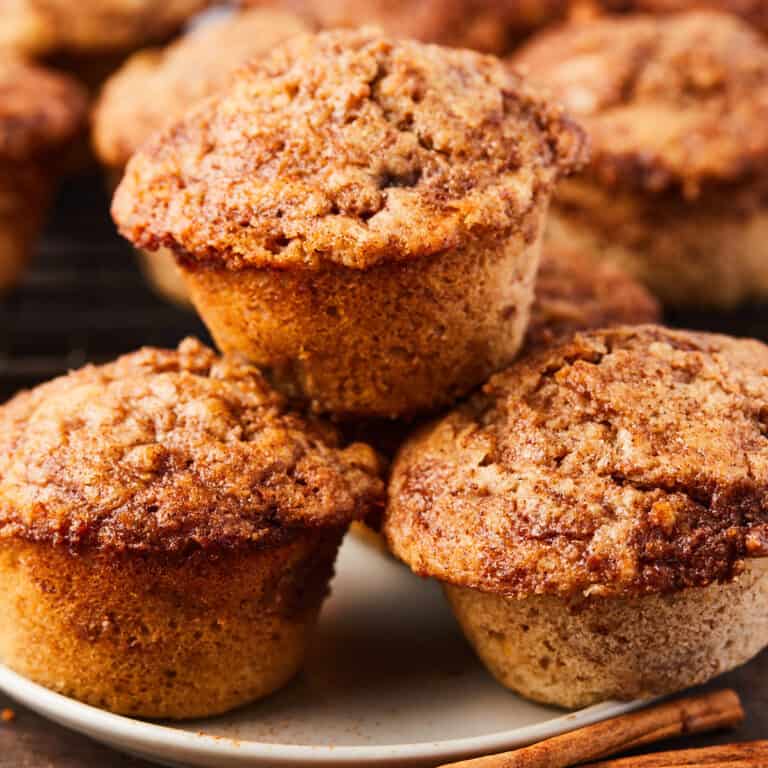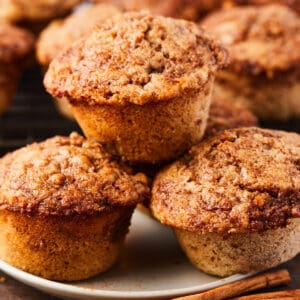 Moist and fluffy cinnamon banana muffins
Moist, fluffy muffins with a sweet banana flavor and a cinnamon swirl. Perfect for breakfast, snack, or dessert.
Ingredients
2

cups

(250 grams) all-purpose flour

2

teaspoons

baking powder

¼

teaspoon

baking soda

1

teaspoon

(3g) Diamond Crystal kosher salt; for table salt, use about half as much by volume or the same weight

1

teaspoon

cinnamon

¼

teaspoon

ground cloves

1

cup

(200 grams) granulated sugar

2

large eggs

room temperature

½

cup

(120 grams) buttermilk

room temperature

5

tablespoons

(70 grams) unsalted butter, melted and slightly cooled

½

cup

(60 grams) sour cream

room temperature

2

teaspoons

vanilla

2

cups

(460 grams) mashed bananas

(about 4 large ripe bananas)
Cinnamon Sugar Topping
½

cup

100 grams light brown sugar

1

tablespoon

cinnamon

¼

teaspoon

(1g) Diamond Crystal kosher salt; for table salt, use about half as much by volume or the same weight
Instructions
Prep
Mash the bananas in a medium size bowl with a potato masher. Set aside.

Adjust oven rack to middle position and heat oven to 400 degrees. Grease 12-cup muffin tin.
Muffin Mix
Whisk all-purpose flour, baking powder, baking soda, salt, cinnamon, and cloves together in a large-sized bowl. Set aside.

Whisk together eggs and sugar in a medium-sized bowl for about 30 seconds.

Add buttermilk, unsalted butter, sour cream, vanilla and whisk until combine. Add mashed bananas and whisk until combined.

Add wet ingredients to dry ingredients and whisk until fully combined.

Using portion scoop or large spoon, divide batter evenly among prepared muffin cups.
Cinnamon Sugar topping
Whisk together brown sugar, cinnamon, and salt in a small bowl.

Sprinkle a teaspoon of cinnamon sugar topping on each, and use a toothpick to swirl the cinnamon sugar into the batter.
Bake
Bake until tops are golden brown and toothpick inserted in center comes out clean, 20-23 minutes.

Let muffins cool in muffin tin on wire rack for 10 minutes. Remove muffins from muffin tin and let cool for at least 5 minutes. Serve warm or at room temperature.
Notes
Freezing Instructions: Freeze baked & cooled muffins for up to 3 months. Thaw muffins in the refrigerator or at room temperature before serving.
Yogurt or Sour Cream: You can use either regular or Greek plain yogurt in this recipe (any fat content) or sour cream.
Why is everything at room temperature? All refrigerated items should be at room temperature so the batter mixes together easily and evenly.
Can I use Frozen bananas? Yes, and I do this often. Thaw the frozen bananas at room temperature. Drain off any excess liquid, mash, then use as instructed in the recipe. For the best texture, avoid over-mashing your bananas. Aim for a balance between mashed and chunky, as over-mashing can result in excessive liquid, leaving you with 2 cups of banana-y mush. Embrace those delightful banana chunks for added texture and flavor!

Nutrition
Calories:
290
kcal
Carbohydrates:
52
g
Protein:
4
g
Fat:
8
g
Saturated Fat:
4
g
Polyunsaturated Fat:
1
g
Monounsaturated Fat:
2
g
Trans Fat:
0.2
g
Cholesterol:
47
mg
Sodium:
364
mg
Potassium:
211
mg
Fiber:
2
g
Sugar:
31
g
Vitamin A:
289
IU
Vitamin C:
3
mg
Calcium:
87
mg
Iron:
1
mg
Did You Make This?
Leave a comment & recipe rating below. Tag @thesassandsalt on instagram so we can admire your masterpiece!