Homemade maple pecan cinnamon granola is satisfying and delicious made with oats, pecans, maple syrup, and cinnamon spice. This granola delivers a crispy, chewy, flavorful bite. It is great for breakfast, snack, or dessert.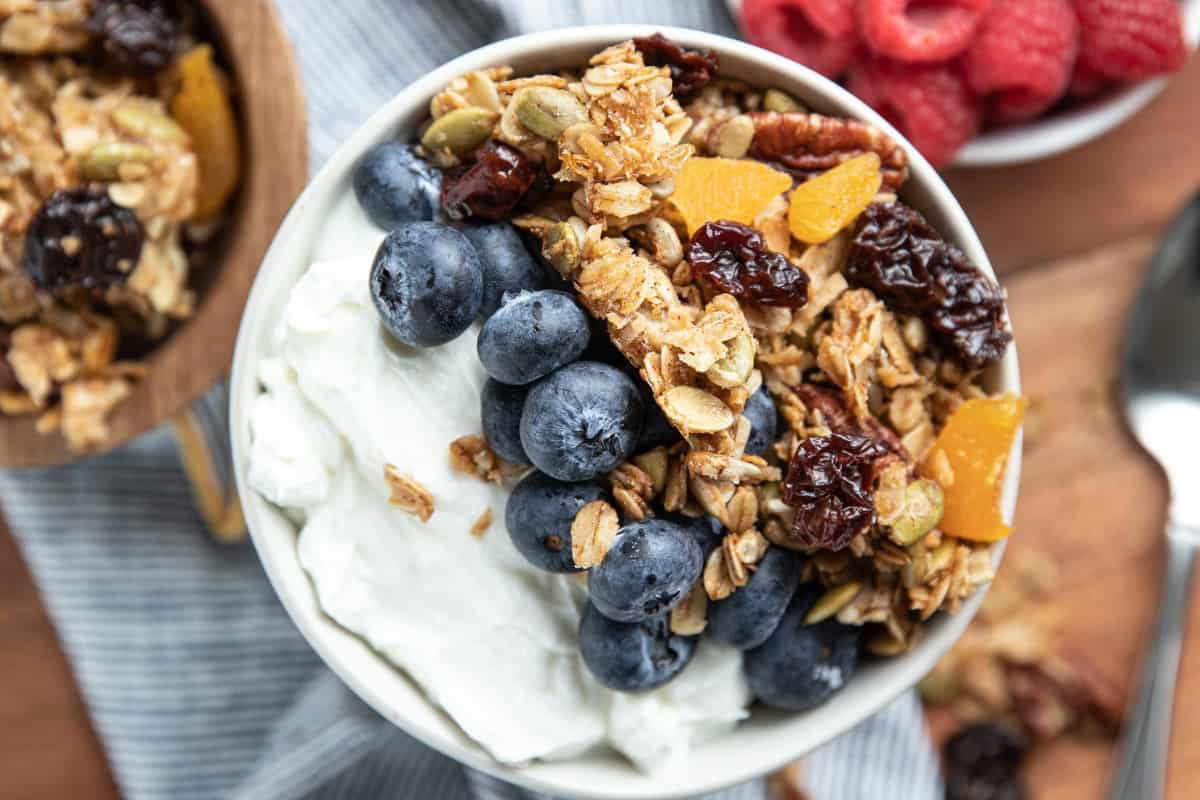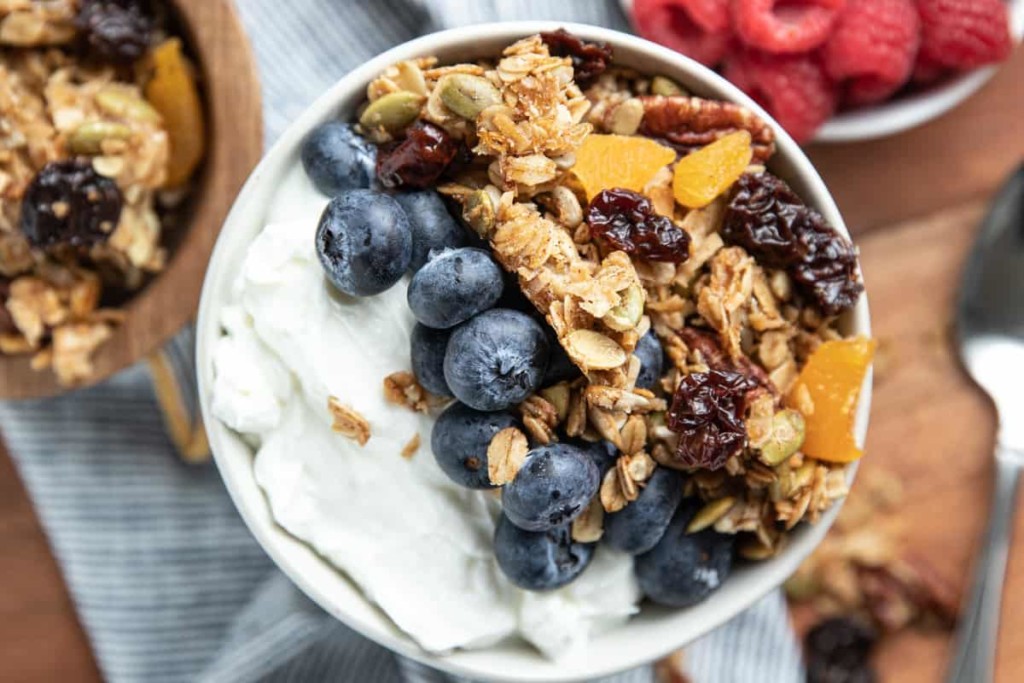 Warning: if you make this granola, you may not be able to stop eating it! I am always grabbing extra chunks after my morning yogurt, it is that good! It is the perfect amount of sweetness, saltiness, and crunch you want from granola.
I was disappointed in most homemade granola recipes because they miss the mark on the crispy texture and the clumps I was looking for, but this one delivers. It slow roasts allowing the maple syrup and brown sugar have time to caramelize over the oats and nuts. Delicious!
This granola = a happy morning!
INGREDIENTS YOU NEED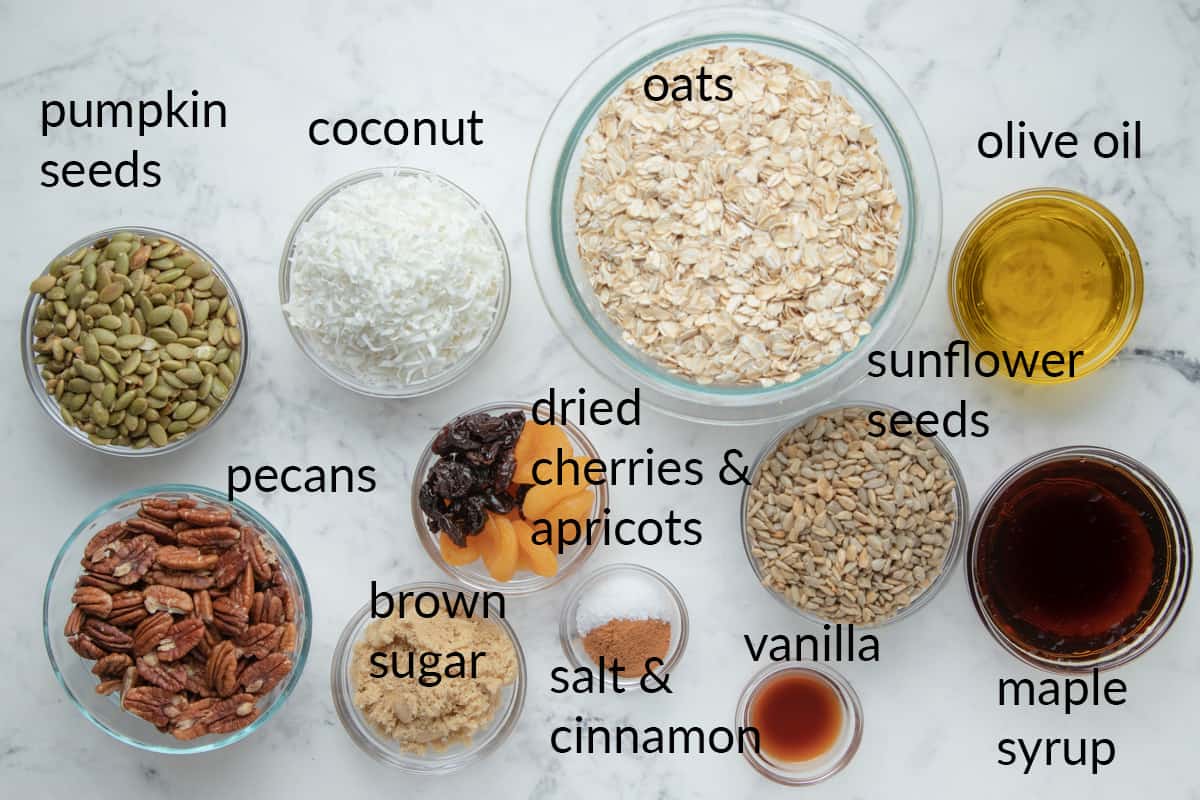 Ingredients & Adaptations
This granola recipe can be easily adapted to your tastes and preferences. Here's what you need to get started:
Oats: Old-fashioned rolled oats are the base of this granola. I do not recommend using quick or instant oats here as the fashioned keep their shape during baking.
Nut and Seeds: I used pecans for added crunch, texture and flavor. Other options include whole or slivered almonds, peanuts, pistachios, walnuts, and cashews.The seeds are pumpkin and sunflower.
Cinnamon: I love cinnamon with maple and pecans. Try other spices such as ground nutmeg or ground ginger or pumpkin pie spices instead. Start with a 1/2 teaspoon of spice and go from there.
Salt: do not forgo the salt, it is needed for flavor. I use my favorite diamond crystal kosher salt. You can also sprinkle fleur de sel after baking!
Maple Syrup: I love using real maple syrup in my granola. Honey would work here too or a 50-50 of both.
Brown Sugar: Adds some sweetness and caramel flavor to the mix.
Olive Oil: Coats all the ingredients for slow roasting and browns up nicely. You can switch this out for coconut oil.
Vanilla Extract: Pure vanilla extract adds flavor.
Unsweetened coconut flakes – adds a nice crispy chew. If you are not a coconut fan, then leave them out.
Dried Fruit: For a burst of chewy texture and sweetness! I usually just make the granola and then add the dried fruit as I am making up my snack. This way I can have the options to switch them out to others I have on hand. My favorite are dried cherries and apricots. Some other options include: dried cranberries, dried blueberries, chopped dates, or raisins would also be delicious.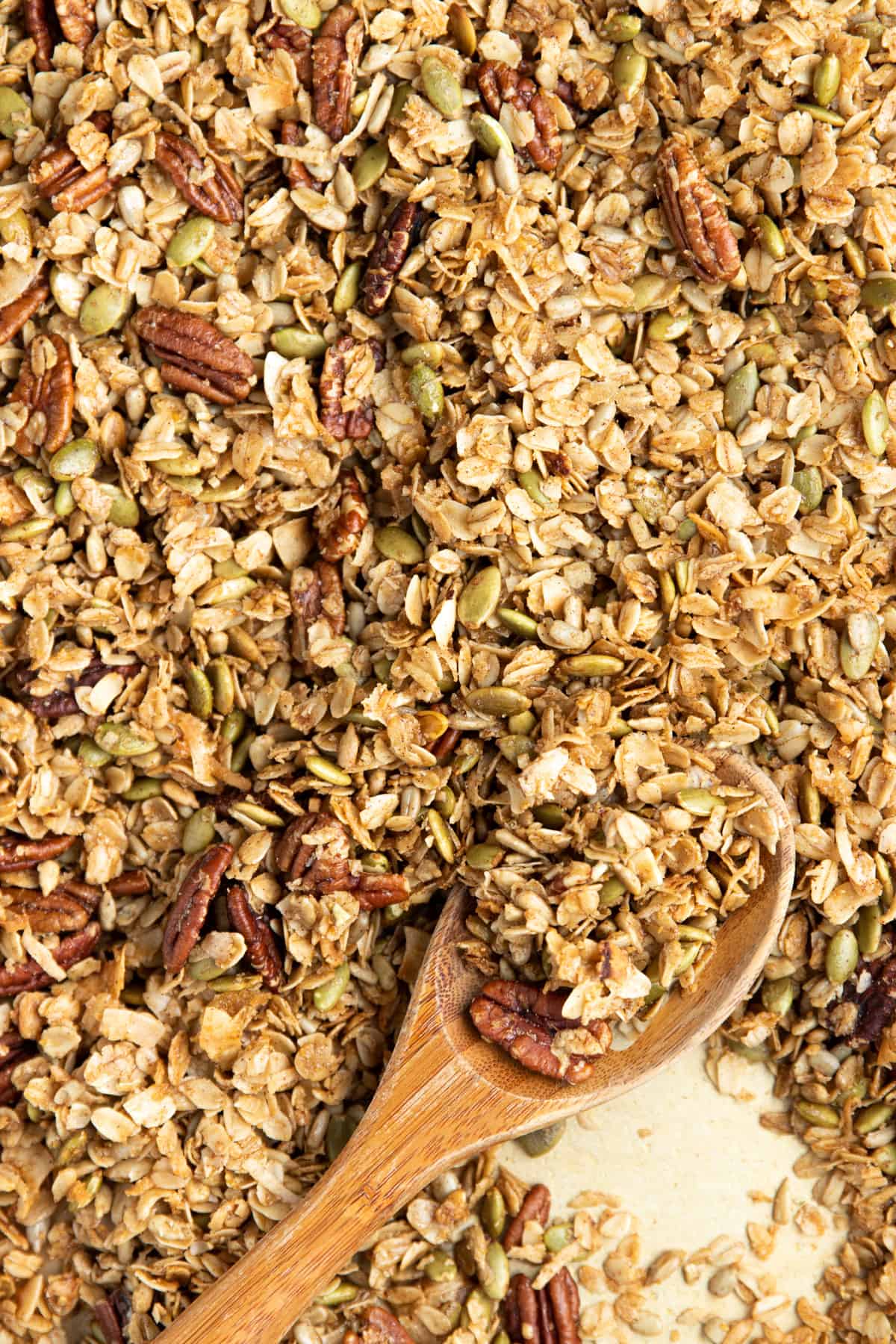 It's really easy to make. Mix all the ingredients together, spread onto a lined baking sheet, and bake. This granola takes 45-50 minutes in the oven. As it cools, it crisps up and forms those delicious clumps.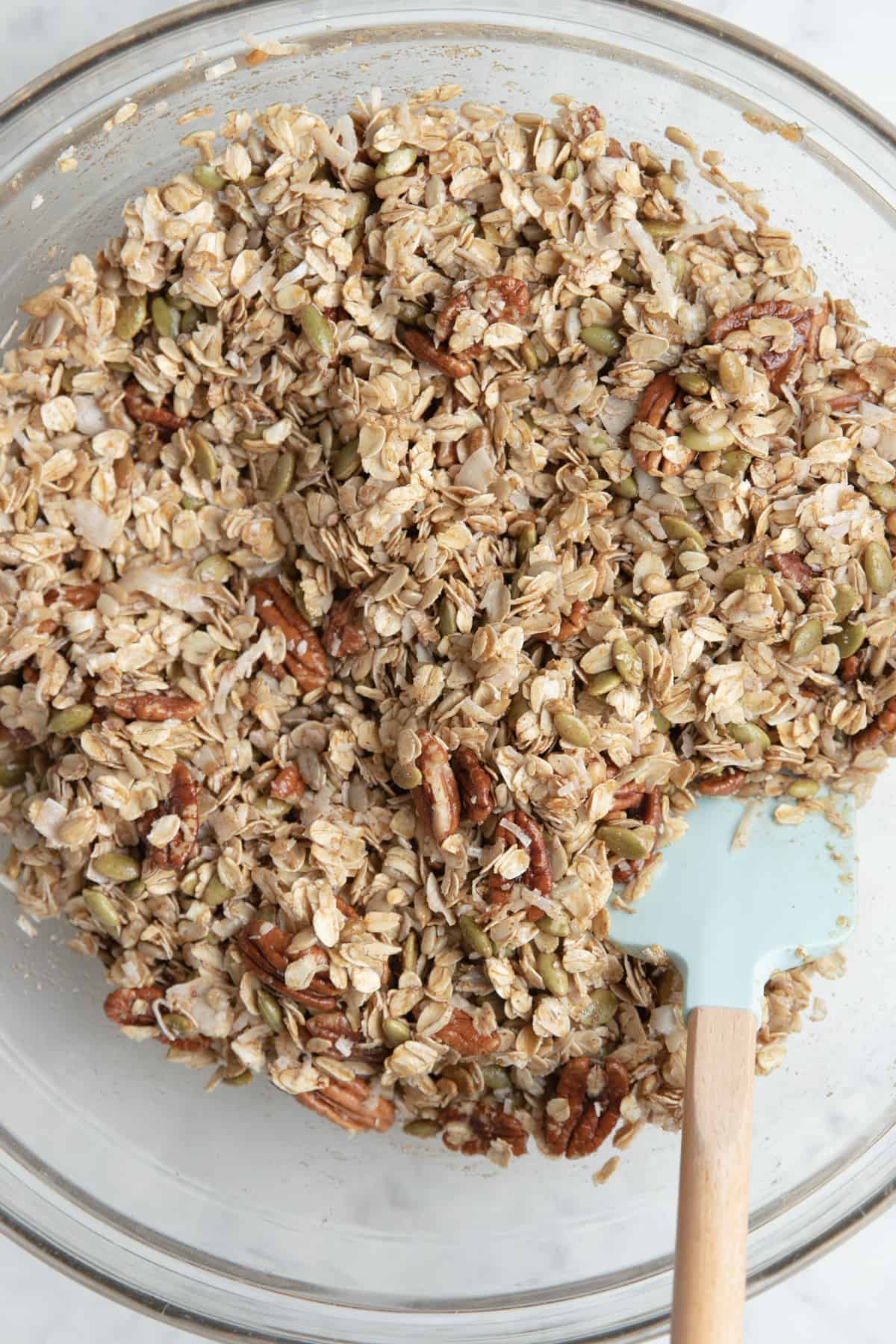 Tips for success
Line your half sheet pan with parchment paper so your granola does not stick.
Bake at a lower temperature. Like I mentioned earlier, baking this granola at a lower temperature is important to prevent the pecans from burning and it also allows for the sugars to caramelize giving it the delicious chewy texture. I bake this granola at 300 degrees F.
To get those clumps. Press the granola in even layer on the sheet pan and stir once half way through baking. Also, allow the granola to cool completely before breaking into pieces.
Don't bake the granola too long. The most difficult part of baking granola is knowing when it is done. Using the low oven temperature helps dry out the granola and lightly toasts the nuts. Take it out of the oven when it looks lightly toasted and smells of cinnamon maple.
For flavorful granola, don't skip the salt! I sometimes sprinkle a little fleur de sal after baking.
Add dried fruit after baking. Dried fruit will burn in the pan, so be sure to add them after baking.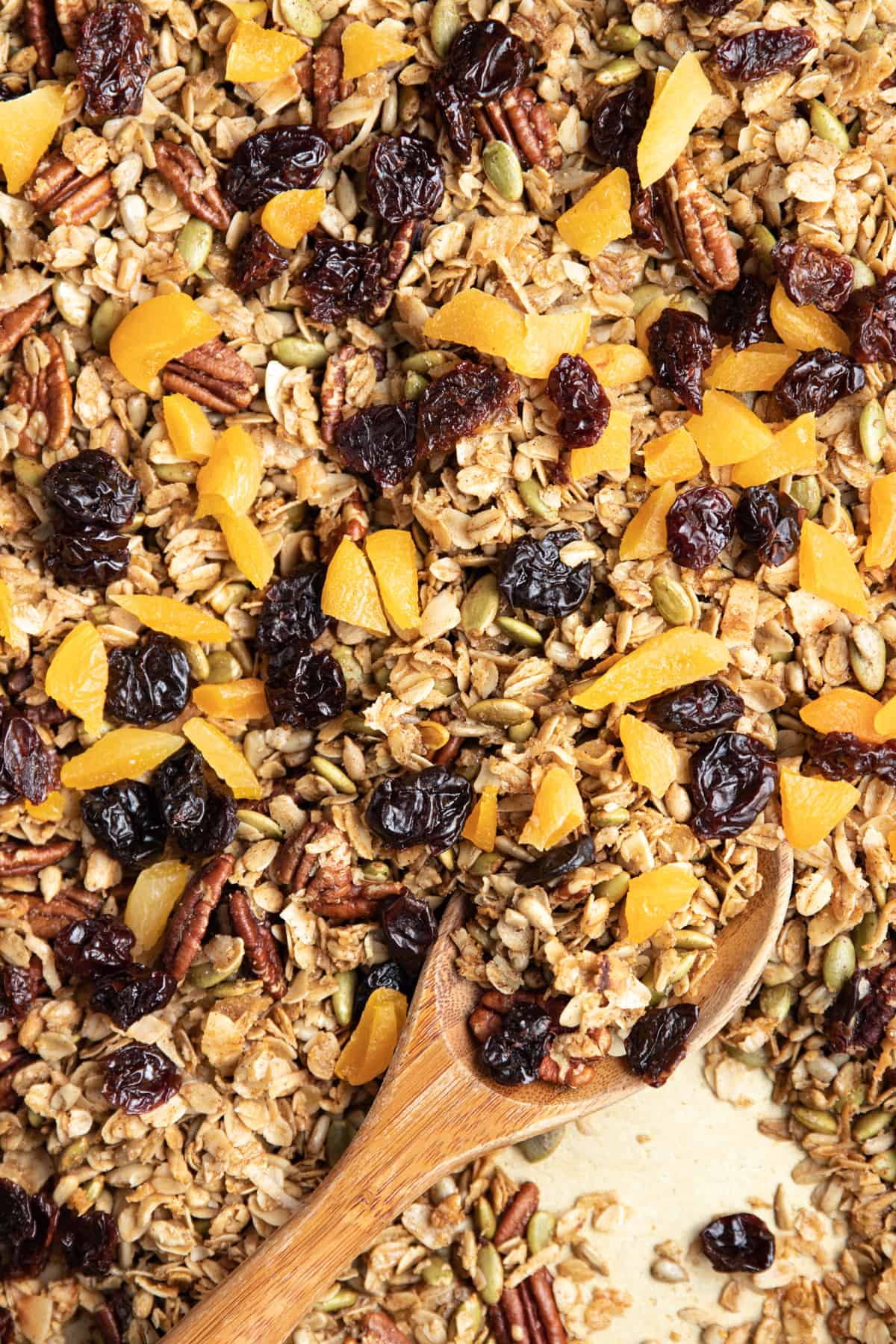 Storing and Serving Homemade Granola
My favorite way to eat this granola is plain as a snack or sprinkled over yogurt for a simple breakfast. My go-to breakfast is a layer of greek yogurt, topped with fresh mixed fruit (raspberries, strawberries, blackberries and blueberries) and the granola sprinkled on top of the fruit.
Try this recipe as it is or make it your own by using different sweeteners, oils, seasonings, nuts and fruits. When making substitutions, think about the flavors, textures, and colors you're replacing, and choose a fruit with a similar profile. With this versatile recipe, the possibilities are almost endless!
Storage: For the longest shelf life, completely cool the granola on the pan before transferring it to a storage container. When stored in an airtight container, this granola will keep for up to a month or placed in a freezer bag and freeze for up to three months.
More favorite breakfast recipes
Try making one of these breakfast treats next: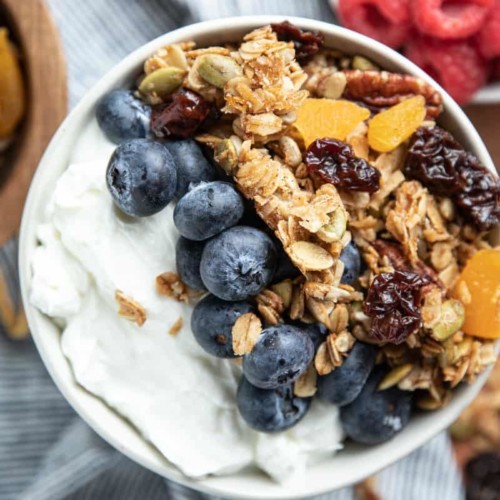 Maple Pecan Cinnamon Granola
Homemade maple pecan cinnamon granola is satisfying and deliciously made with maple, pecans, and cinnamon spice. This granola delivers a crispy, chewy flavorful bite. It is great for breakfast, snack, or dessert.
Ingredients
3

cups

old-fashioned rolled oats

1

cup

roasted salted pumpkin seeds

1

cup

roasted salted sunflower seeds

1

cup

unsweetened coconut chips, flakes or shredded

1 ½

cups

unsalted pecan halves

⅔

cup

pure maple syrup

½

cup

extra virgin olive oil

⅓

cup

packed brown sugar

1

teaspoon

Diamond Crystal Kosher salt or ½ tsp other salt

2

teaspoons

cinnamon

2

teaspoons

vanilla extract

1

cup

dried cherries and dried apricots (optional)
Instructions
Preheat the oven to 300°F. Line a rimmed baking sheet with parchment paper. Set aside.

In a large mixing bowl, combine the oats, pumpkin seeds, sunflower seeds, coconut, pecans, maple syrup, olive oil, brown sugar, maple syrup, salt, cinnamon, vanilla extract. Stir to blend.

Spread granola mixture evenly on the prepared baking sheet.

Bake in the oven until granola is toasted and very crisp about 45- 50 minutes. After 25 minutes, take it out of the oven and stir with a spatula. (If you forget this step, no worries, it will still be great).

Remove from oven and season with more salt to taste if necessary.

Let cool completely. The granola will crisp as it cools. Stir in cherries and apricots if desired.
Notes
This recipe was adapted from Samin Nosrat's book Salt Fat Acid Heat Nekisia's Olive Oil and Sea Salt Granola recipe.
Storage: Completely cool the granola on the pan before transferring it to a storage container. When stored in an airtight container, this granola will keep for up to one month. Or place in a freezer bag and freeze for up to three months. If freezing, allow dried fruit to thaw prior to consuming.
Nutrition
Calories:
777
kcal
Carbohydrates:
70
g
Protein:
15
g
Fat:
52
g
Saturated Fat:
12
g
Polyunsaturated Fat:
15
g
Monounsaturated Fat:
22
g
Trans Fat:
1
g
Sodium:
466
mg
Potassium:
518
mg
Fiber:
11
g
Sugar:
35
g
Vitamin A:
552
IU
Vitamin C:
1
mg
Calcium:
110
mg
Iron:
4
mg
Did You Make This?
Leave a comment & recipe rating below. Tag @thesassandsalt on instagram so we can admire your masterpiece!